An unexpected turn
Trip overseas cut short due to global pandemic
After the coronavirus was declared a pandemic, many changes and new regulations were put in place for the safety of civilians across the globe. Guidelines were changing quickly, as the virus spreads like wildfire affecting every part of the world. Tourists and volunteers were faced with a challenge as their time was cut short and soon had to find a way home. Senior Madelynn Singh was greatly impacted by these new regulations and her four-month trip to Africa was condensed to two. 
In January, Singh took a once in a lifetime opportunity to travel to different countries such as India, Bali, Africa and Sri Lanka. Her mission was to positively impact everyone she came across and make a difference in the world, even if it was only a small gesture. Though she had to return early and not receive the full experience, Singh is beyond grateful for the opportunity. 
"I learned a lot," Singh said. "I learned that living in the US, the UK, Australia, and even France, that we are so incredibly lucky for the things we have. We have a house, food and shoes. We don't have to go to school in front of a river that is so incredibly polluted that you have to breathe through your mouth. Before I left in January, I took everything for granted. I wanted a new phone, and a new computer, and new clothes. I wanted all of these things that before I left I would have said that I needed them. I needed to have them because all the cool people had them, but now I know that they are stupid wants. I am so, so fortunate to have what I do."
Singh's experience volunteering opened a new light in her life. Spending time in orphanages or even seeing citizens out on the streets, she spent time making everyone feel loved and comforting them in any way possible. She met a baby in the orphanage named Emanuella, who she cared for with a deep passion, leaving the baby left her in tears.
"Her experience volunteering in an orphanage was profound," mother Laura Chrest said. "Maddie was reprimanded for giving too much attention to the toddlers. She called me crying because the babies had fevers that were left untreated. Maddie's experience with young babies is based on the birth of her younger brother 3 1/2 years ago. JJ was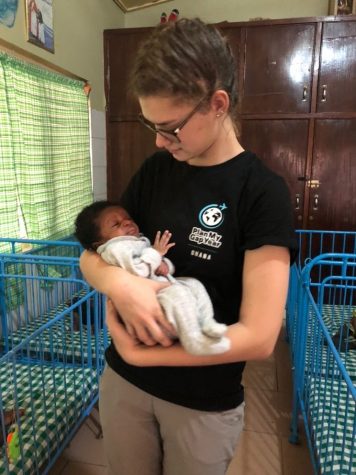 born 10 weeks early. By comparison, baby Emanuella received the bare minimum. Emanuella did not receive a fortified formula that helps premature babies gain weight. She did not receive vital skin-on-skin contact. She spent the majority of the day lying in a crib. Maddie created a fundraiser to raise money to purchase diapers, food and other necessary supplies for the orphanage."
While the good times continued, a global pandemic was soon announced and other volunteers in the group started returning home, that is when Chrest knew it was her time to leave as well. 
"I had arrived in my 3rd location, Sri Lanka, and they had started putting restrictions in place," Singh said. "My family and I decided that since I wasn't able to do any volunteering in Sri Lanka and that airlines were starting to stop/cancel flights, that it would be the best time for me to come home. I left Sri Lanka on Saturday afternoon and I got home at 2 am on Monday morning. While I was in Dubai, I had to wait for an hour and a half in a line to get my temp checked. I knew it was time for me to come home when all the other volunteers I was with were starting to book flights back to where they were from."
Just as Maddie, her family was heartbroken when they heard that it was time for her to return. Though they missed her, they could see how this trip had so far impacted Maddie. 
"Just as schools were physically closing in Omaha, Maddie left India for Sri Lanka," Chrest said. "I had actively been reading information from the CDC, US Embassy and the Embassies of India and Sri Lanka. During her last week in India, the nation revoked visas for incoming travelers. When she departed for Sri Lanka, there had only been one confirmed case of COVID-19. Guidelines were changing very quickly. I still felt she was safe in Sri Lanka. She and her roommates avoided local residents and snuck away for relaxing evenings watching the sunset over the Indian Ocean. Within a few short days, Sri Lankans officials threatened jail time for her homeowner if Maddie or any of the other volunteers were seen off the property. It was at that time we decided she needed to come home. Contrary to popular belief, we did not bring her home early to avoid contracting the coronavirus in another country. We brought her home when we did to avoid any legal ramifications as lockdown guidelines were tightened. I was more frightened of her contracting the virus during her travels home than I was of her getting sick in Sri Lanka."
Being exposed to the poor infrastructure and different cultures, Singh's family members and friends noticed her personality changed as she became more grateful and mature, appreciating life more than ever before.   
"Maddie has always had the biggest heart," sister Carlie Chrest said. "But I think that it has grown so much these past few months. She got to truly give back and help others. And as she has been back she has had a more mature vibe with her. She has seen parts of the world where they don't have all the wonderful things we have, and she has got to take part in fun activities and be a part of different cultures. And I think that makes her see the world different. And she sees how she has truly helped others. Maddie has hopefully made an impact in others' lives. And I hope she inspires others to do good as she has!"
Falling in love with new places away from home was what made returning difficult. After 64 days of being away from her family, reuniting with them would be like a breath of fresh air. After countless hours in the Dubai and Chicago airports and enduring flights, she finally returned back to Omaha after navigating international airports like a pro. 
"The moment I saw my mom at the airport, I could tell she was already crying and when I hugged her then I started crying," Singh said. "As a joke, my sister and my step dad wore a mask for the first 30 seconds I saw them. My brother ran up and gave me a huge hug."
Being in the arms of her family, Maddie is now spending her time in quarantine learning to cook and creating new hobbies. After experiencing a trip of a lifetime, her life is permanently altered, and she hopes to return in the summer of 2021. Leaving her home one more time, Maddie will be attending Crown College in Minnesota in August.