Millard United Rugby takes the State Title
After a hard season, Millard wins the state championship over 40th in the nation, Westside
Millard United Rugby has come a long way in the past few years, carrying pride and four State championship trophies, all won consecutively.
On Wednesday, May 22, (after being postponed a day due to weather) Millard United clashed with Westside High School for the State title and managed a 19-16 win.
"[The game] was hard," senior captain Pierson Adamson said. "Both of our teams played with heart and stepped up our game since the last time we met."
Going into the state game, Millard United had set a goal back in October of last year to be the best in the state for a senior player who had passed away before the season started. The team truly had a purpose and reason to win state this year against some of the hardest opponents they've faced.
"I think Blake pushed our team to a whole new level. Before the season started, we were in the gym day in and day out, and refused to make this a mediocre season. Everything we did was for him," senior Alex Reis said.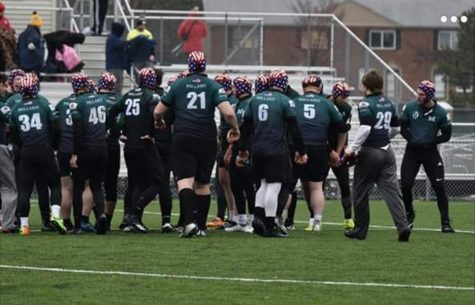 Before the season even started, Millard United managed to beat out national teams in a Kansas City tournament, giving the players a good omen for how the rest of their games would play out. Going into the regular season games, the team did not pre form as well as they hoped, managing to tie two games in a row, one of them being Westside.
"I was definitely worried at the start, we just weren't preforming the same way as in Kansas," senior Thor Henka said. "We weren't getting to the rucks in time, our defense never attacked the ball, we always tried to strip the ball instead of getting low and tackling, and our back line in general was scared to hit."
Many of the team members were fed up with the results they were getting on the field and decided to start scheduling more practices and working harder to achieve the coveted state title. Instead of relying solely on brute force and athleticism like in past years, the team worked on their weak points throughout the season; improving their flow and using their size to their advantage.
"I'm glad we got our stuff together because our hitting was atrocious," senior Nick Putler said. "We had bigger bodies than half the teams but we couldn't seem to just keep it simple and hit people."
Millard United managed to win the rest of their regular season games except their second game against Westside, with a heart breaking 36-12 loss. The team had a turning point in their attitude after this game.
"Our entire team took that loss seriously, and we weren't going to give up," senior Wade Ott said. "I don't think we would be able to forgive ourselves if we got anything less than the state title.
When Millard took the pitch against Westside again less than two weeks later, it was the state game. The pregame pep-talks from coach Scott Bohlken and the team captains for full of passion and dedication to Rugby and Blake. Millard was not going to go down without a fight.
Millard United played a perfect game that day fought for a 19-16 win over Westside, with senior Braydon Cundiff scoring three Tries and senior Alex Reis landing two after-point kicks. They were able to step up their game by sticking to the basics and trusting each other on defense.
"That had to be one of the smoothest games of Rugby I've ever seen," junior Sean O'Grady said. "Whenever we played them before, they always waited for us to foul and then move us down the field that way. This time, we controlled the rucks, and they couldn't run anything on our defense."
After the three tweets from the ref's whistle, the field was stormed, and the team celebrated. They held up Blake's younger brother as the real trophy and, for many of them, gave their final "FSU" chant.