Third Straight Year of Sweeping in Counting
Millard West adds more awards to the trophy case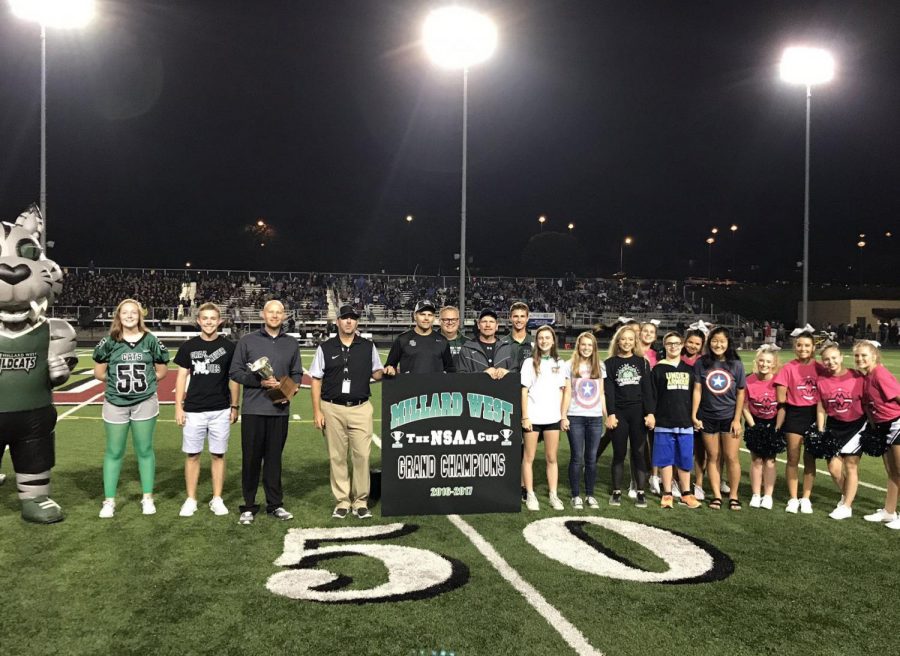 Another year, more championships and awards. In 2016-2017, the school brought in three state titles, sweeping Cross Country, Journalism and pulling out with the title in Girl's Track.
Those four laid foundations to help bring in the Omaha World Herald Grand Champions Award, the school's fifth in a row and eighth total in the 22 years West has been open, not including the four Girl's Championships the school also holds.
In addition to the previous achievement, Millard West won the NSAA Cup, given out by the Nebraska School Activities Association, for a third straight year.
"Overall, all the programs excel here at the school," athletic director Chris Loofe said."We are very well rounded and there isn't a program that does not succeed."
Backed by the three championships, the school added solid performances in boy's soccer, football, boy's track, girl's soccer, softball and girl's golf. The school also tacked on a runner-up finish in boy's golf.
At the pep rally on August 24th, Millard West welcomed Omaha World Herald sports writer and editor Stu Pospisil. Pospisil was present to hand over the award to Loofe and principal Greg Tiemann.
The NSAA Cup was handed out at halftime of the football game on September 1st against Millard North. The on-field ceremony took place with Tiemann, Loofe and assistant principal Mark Hawkins on the field accepting the award from NSAA official Dan Masters.
Seniors Annaliese Punt, Adria Allen, Anthony Palmesano, and former student William Morris were on the field representing each of the activities they participate in that contributed to winning the NSAA Cup.
Also on the field were juniors Reagan Newsome, Emma Ahrenholtz, Joanna Bai and sophomore Joey Drawl. These students all were chosen by each activity advisor to be the ambassador for the game, as each team had done well in their respective seasons last year.
While these two  prestigious awards recognize excellence in athletics and activities, Loofe mentions these awards are not the focus.
"I would love for the kids to put themselves in a position to win a championship in their respective environments," Loofe said. "Continuing these streaks are not a goal, just putting everyone in a position to win a state title."