Student athletes keep up with busy schedules
Athletes work hard to be a student and player
Hang on for a minute...we're trying to find some more stories you might like.
Going to to practice for two hours after being in school for seven can take up time for homework later that night. After practice, athletes have to go home to do all their homework in the limited time they have left. Between balancing school and sports, schedules are almost entirely filled. Student athletes are constantly busy with games, practices and homework, but even with everything going on they continue to keep their grades up.
There are many hard working students athletes, one of these being Hayley Briganti.
"I take a lot of honors and AP classes to get ready for college," Briganti said. "Soccer practice for Millard West is everyday after school and once that's over I have to go home to do all my homework. Doing all my homework can take about three to four hours depending on if I have a test coming up."
Student athletes have practice everyday after school for two hours and if they are involved in advanced placement or honors classes then they could possibly have two or more hours of homework. Having to study for tests and homework for other classes can take up even more time each night.
There is a GPA requirement all athletes must meet otherwise they can't participate in high school sports. The minimum GPA athletes need in order to be able to participate on a high school team is a 2.0. Athletes are motivated to have good grades since their reward is being able to play their favorite sport.
Not only does having a minimum GPA requirement keep students motivated, it goes against the stereotypical movies.
There are a lot of cheesy teenage movies that are about an athlete that needs a tutor for a certain subject and he falls in love with his tutor, an example of this is Grease, Lorenzo Lamas, the not so intelligent jock, starts crushing on Sandy Olson. But movies are only movies, it isn't real life. Most athletes are smart because they put in the work for their homework and tests. Student athletes have to balance their school and sport life, which can be a struggle but they work hard to get good grades and win a game for their team. Mike Krings's article, A study shows high school athletes preform better in school, persist to graduation more than non-athletes, was published by the University of Kansas, it explains that athletes aren't just the "dumb jock" stereotype most people would think of.
"The stereotype of the dumb jock has been around almost as long as sport itself," Krings said. "On the opposite sideline there are coaches, teachers and athletes who would argue that high school sports are as beneficial to students in the classroom as they are on the field of play."
Putting in the work in practice everyday and studying for classes can be difficult but it's all worth it in the end. Getting playing time or starting can be very important to some athletes. Finding time in a busy schedule to study can be difficult.
"I do think that athletes are willing to work harder than non-athletes because there is more pressure by the coaches to do well in class," Briganti said. "They want us to be good representatives of Millard West athletics and be good role models in the classroom."
Being able to play sports after high school motivates student athletes to do well in their classes. The idea of the future and going to college applies to everyone, non-athletes are motivated by the idea of college and their future and they don't want to do anything besides working towards that goal. Some high schoolers have strict parents, and they want to make them proud, and live up to their parents' standards.
Krings's article supports the idea that playing a sport is another reason that keeps students from dropping out entirely. It gives them something to look forward to at the end of the day.
"Athletes had higher percentages of days of school attended, graduation rates, and Kansas assessment scores and lower dropout rates than non-athletes" Krings said. "Students who complete high school have much higher economic potential than those who drop out. Conversely, those who drop out are more likely to live in poverty, face substance abuse and numerous other social problems."
Playing a sport isn't only about working hard all the time. Sports can teach people more life lessons than any school can. All sports teach people about working together with new people. Teammates are together a lot of the time with all the games and practices per week so they usually get to know each other and how everyone plays over time. Taking instruction is something everyone should learn at some point in their life, but athletes are used to taking instruction from their coaches. Playing a sport also teaches athletes that a game is just a game. In the end it was all for fun. It's the people you are around, the lessons you learn and your own happiness that makes life, and sports, worthwhile in the first place.
Student athletes are willing to put in the school work and the practice time in order to get the opportunity to play each week.

About the Writer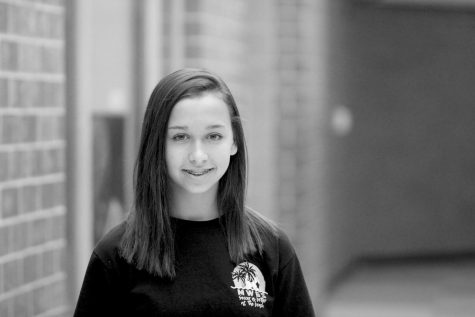 Kiersten Watkins, Staff Writer
Kiersten is a sophomore and this is her first year on the Advanced Journalism staff. She enjoys taking pictures of different activities. Along with journalism,...