One After the Other
Senior tears her ACL three times, yet still commits to a college for basketball
Hang on for a minute...we're trying to find some more stories you might like.
Most athletes experience injuries from one time to another, the rest are grateful they live a lucky and healthy life. Especially in high school and college, the amount of tough competition increases. This makes concussions and broken legs very common in the trainer's office.
Although many get through these more active parts of their life without much more than a scratch, others are more prone to getting injured. For senior Courtney Merryweather, she went through a total of three ACL tears before she reached her final high school basketball season.
It all started her freshman year. While playing with the varsity team during a preseason game at a Gretna league, she tore her left ACL.
"I was going after a ball and it got tipped so I planted and turned towards the new direction," Merryweather said. "My knee popped, gave out, and I fell."
Her first high school season was spent sitting on the bench, a place she would soon be too comfortable with. Through that season and into the summer, she attended Physical Therapy at least twice a week, hoping to get better by the next year.
"Everyone was praying Courtney would get better by the next season," senior Lauren Rongisch said. "Although we liked her spirit on the sidelines, we like her better on the court."
By the start of her sophomore season, she was healthy and ready to play ball. She was able to try out and make varsity for the second time.
"It was relieving being able to still play the sport I love and be able to actually contribute to the team on the court," Merryweather said. "I miss that."
From there, she got the chance to push the team all the way to the State tournament, but they ended up falling short.
The following summer was when it all came crashing down.
On July 7th, 2016, she had torn her right ACL during the All Nebraska Attack league. In almost the same motion, she turned and planted her knee which gave out.
"It had the same pop and pain," Merryweather said. "I knew right away I tore it but the trainer tried telling me it wasn't my ACL."
That one little movement would sit her out for her entire junior season. After finally getting cleared in April after the end of the season, she went to her first practice since the most recent tear.
Unfortunately, that one practice was one too many, and she ended up tearing her right ACL during the last drill of the day.
"It was the last five minutes of practice and I once again planted wrong on defense and it popped and I fell," Merryweather said. "I definitely knew right away what happened and was destroyed."
Her final tear would keep her out through the entire summer and into her senior season, but that didn't stop her from chasing her dreams.
Since she was a little girl, her parents made sure she was active and always involved in sports. Playing softball in the summer and basketball in the winter made for a hard decision when it came to what she wanted to play in college.
"I gave up softball when I got into high school, but still decided to play once during my sophomore year," Merryweather said. "I never got hurt in softball, but I still wouldn't choose playing it over basketball. I always knew it was what I wanted to do."
During the middle of her senior year, she received exciting news from a college of interest. They decided that although Merryweather was still injured, she was too talented to pass up.
She got offered to play basketball at Concordia University, and committed shortly after.
"I've known the coaches and recruiters there from meeting them during my freshman year," Merryweather said. "They were looking at a few other players on the team at that point and they noticed me and have stayed in contact since."
Merryweather continues to build her strength by going to physical therapy once a week and does small workouts twice a week. Throughout this summer and the season, she hopes to stay in shape, and keep her injuries to the bare minimum: 0. 

About the Contributor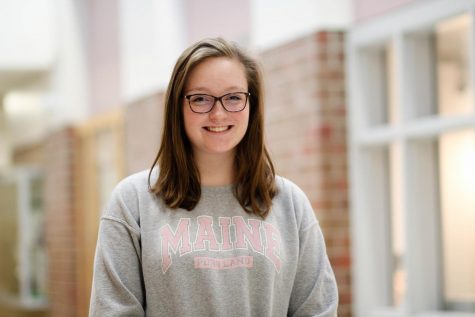 Annaliese Punt, News Editor
Annaliese is in her first year of Advanced Journalism. Since sophomore year she has been involved in Yearbook, and this year, was named Editor-in-Chief...