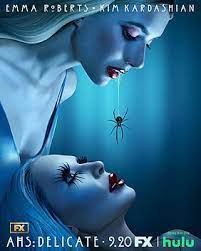 In the chronicles of "Murder House, Asylum, and Cult" classics; a new season of the eerie anthology series, "American Horror Story: Delicate," shares a glimpse into the life of an A-list actress, Anna Victoria Alcott (Emma Roberts), dealing with the insane revelations of having a pregnancy in the limelight.
Wednesday, Sept. 20, marked the date that the 12th installment of the award-winning series premiered its first episode, titled "Multiply Thy Pain." 
Ahead of the premier, lifelong fans criticized the upcoming season. Followers disagreed with the fact that the fresh on-screen actors, Kim Kardashian and Cara Delevingne, would play a well-thought-out role for the critically acclaimed show, and I can't say I disagree.
(Warning: spoilers ahead)
At the start of the episode, Anna is lying in bed as she turns over to see a faceless, unnamed character watching over her in her apartment bedroom. She flips out of bed as the mysterious figure rushes out the door of her penthouse. When looking for clues of how or when the figure got in, the situation is quickly overshadowed by her boyfriend, Dex (Matt Czurchy), who appears to be envious of her success, reminding her of her IVF appointment that morning. 
While walking out of her appointment she sees what she thinks is the figure that was in her penthouse that morning; dressed in all black, with big red sunglasses and red heels, whom Anna speculates is following her around. 
The viewers are then introduced to Anna's manager, Siobhan Corbyn (Kim Kardashian), who is playing the role of this ultimate PR boss sharing her opinions to Anna on all things media and spotlight. I think this was a very smart move by the directors because they put Kim in a role that she is familiar with, in the spotlight of the internet, which may help a lot with her acting later on in the season.
While discussing upcoming interviews and appearances with Siobhan, Anna learns she gets her big break on Watch What Happens Live, a reality-based talk show. Which is a big event in her career, following her Indie film.
At this point in the episode, it is seeming a little underwhelming. There always appears to be an unspoken shadow on Anna's shoulder, waiting to strike, which sets up anticipation for what's to come, but nothing ever happens. In a way, I feel disconnected from the show because it is not grabbing my attention like I was expecting.
Later that night, Anna and Dex are out to dinner with a mutual friend Talia (Juliana Canfield). Discussing everyday news and gossip, Talia abruptly brings up Dex's ex-fiance, who dramatically passed away. Shaken by the comment, Anna walks into the bathroom. Moments later, Talia walks into the bathroom and harshly drags on about the dangers of having a child in this day in age.
After the conversation in the bathroom, Anna talks to her doctor, finding out they were able to retrieve two embryos. Scheduling the appointment for Thursday, she has to reconsider because of her talk show interview. 
Watching Anna balance trying to get pregnant and her success in unison is heavy. She has so many great opportunities in her life, but cannot figure out a way to balance personal and work affairs, as well as feeling unsafe in her home. Between scheduling conflicts and just flat-out unearthly illusions occurring in her head, it makes the viewers wonder what this loose cannon will fantasize next.
After the interview, a commodity of odd events starts spiraling into Anna's life. Seeing a strange sadistic character in the audience, which wasn't really there, blew off her train of thought for the rest of the interview. Dex pulling a spider out of her hair, her worst fear, sets her off course for the rest of her day. And the cherry on top, having scheduled dates in her calendar, disappear and move, which makes Anna speculate envious fans are trying to take her career down.
The episode ends with a replay of the beginning, waking up to the same figure standing over her bed, running out of her penthouse, and Anna calling the cops. But this time, the photos of her embryos, ripped and shattered across her floor.
Overall, the course of the season will be the audience's ability to determine if these fantasies happening in Anna's life are real or made up by the stress she is under. The ending of the episode leaves anticipation for what's to come later on in the season. I think there is room for improvement, but I am excited to see what this season brings with all the foreshadowing, of her being sabotaged by the close people in her life, and the potential of losing her baby.
3/5