Women on the mat
For the first time ever, high schools across Nebraska have expanded the wrestling program into boys and girls teams. Sophomore Halle Opat's dedication was instrumental in advancing equal opportunity in Nebraska sports.
The wrestling community has been ruled by men throughout history. In previous years, girls who wished to partake in the sport were required to practice and compete with the boys' team. Because women in the sport aren't common, Opat has continued her wrestling career whilst being the only girl participating on the boys' team.
"I'm from a small town in Kansas where girls wrestling was really big," Opat said."I really wanted to wrestle, but I moved here and we didn't have a girls' team so I decided that I was going to wrestle on the boys' team. It's difficult to wrestle guys being female in the sport. I'm definitely excited to not let them have that advantage over me."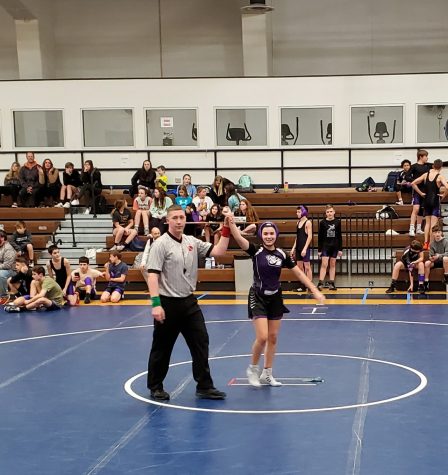 Opat wasn't going to stop wrestling due to boys, but intimidation from a male-dominated sport is enough to drive most girls away. She wanted girls in Nebraska to have the opportunity to wrestle without feeling uncomfortable. Opat started pushing for Nebraska to sanction girls' high school wrestling.
"I really wanted to sanction girls wrestling here, so me and a former olympian, Tela Bather, founded SantionNE," Opat said. "We put out infographics and Zoom sessions to try to get people interested in sanctioning girls wrestling. I sent out emails to everyone that was voting on it and got in connection with the organization Wrestle like a Girl and a lot of other people."
The SantionNE movement was supported locally and internationally, including Nebraska USA Wrestling, Wrestle Like a Girl, Nebraska Wrestling Coaches Association, National Wrestling Coaches Association (NWCA), and National High School Coaches Association. The efforts didn't go to waste because last May, the Nebraska School Activity Association unanimously voted to sanction girls wrestling. It was up to the schools to decide on expanding. Along with all three Millard high schools, more high schools are offering a girls' team. Female wrestlers all over Nebraska are very grateful for the change.
"I'd like to say thanks to the people who sanctioned girls wrestling," Westside senior wrestler Alicia Gubalke said. "It being sanctioned makes girls more comfortable wrestling for those who were not wanting to wrestle boys. It opens competing in the state for us and that makes me really happy because it's my last year."
The Wildcats started have been working hard since the start of the season. Both teams share practice and work together to prepare for their competitions. The number of girls participating is significantly less than the number of boys, but the girls are working to prove themselves.
"I have about seven girls right now," girls wrestling coach Linda Sorich said. "My goals are to increase that to cover all the weight classes. I would like to send a few of these girls to state this year. I think we have a great chance especially because it's such a new program and there are not a lot of girls out for it."
Although the amount of female participants is low right now, the team is hoping to increase throughout the years as girls in wrestling become more common. The girls are spreading awareness about the opportunity and are excited to see what the season brings.