Running in Regionals
Millard West Cross Country competes in Nike Regional Meet
Nearly a month removed from the Nebraska State Cross Country Meet, the Millard West varsity teams traveled to Sioux Falls, South Dakota, to compete in the Nike Cross Nationals Heartland Regional. 
The meet featured 22 teams from six other states including Iowa, Kansas, Minnesota, North Dakota, South Dakota and Wisconsin. The boys team consisted of the same seven runners that placed second at state. 
Sophomore Jack Witte and senior Sam Kirchner finished with the exact same time of 15:51, with Witte in 47th place and Kirchner in 48th. 
"I think the best part of my race was the finish because I was able to make up the ground I had lost in the second mile," Witte said. "I had a strong finish kick that helped me pick people off, and I had a fast last mile compared to many that were falling off of race pace."
Junior Piercze Marshall crossed the line in 66th place with a time of 16:05. Sophomore Porter Bickley finished shortly after Marshall with a time of 16:11 giving him a 75th place finish. Senior Cole Haith finished just eight seconds later in 88th place. Junior Joey Hartnett came in with a time of 16:30 yielding him 101st place. Senior Seth Fey rounded out the Wildcats' field of runners placing in 116th place with a time of 16:40.
"I ran a decent time in comparison to all my other races of this season," Marshall said. "But I didn't feel the greatest in the race, so I felt disappointed that I didn't do as well as I wanted. If I would've felt better, I could've set a personal best, and this would be the race to do it at because it is the fastest course we've run on and the biggest meet we've run yet."
The girls team was made up of six of the seven runners that placed fourth in the state meet. The team was once again led by junior Isabelle Hartnett who crossed the line in 95th place with a time of 19:08. Senior Sydney Beaudin finished with a time of 19:36 in 120th place. Junior Samantha Ullman finished 158th with a time of 20:18. Senior Samantha Vojslavek crossed the line with a time of 20:48 in 168th place. Two seconds and two positions later freshman Katherine Ebmeier finished her race. Sophomore Thea Kutash was the final Millard West runner, coming in 184th place with a time of 21:15.
When the final scores were tallied, the boys team totaled 152 points, giving them a second place overall finish. They only trailed a team from Minnesota who scored 11 points fewer than the Wildcats. This performance made the Wildcats the highest placing Nebraska team in this meet ever. The girls team had a little less success as they placed last with a score of 504.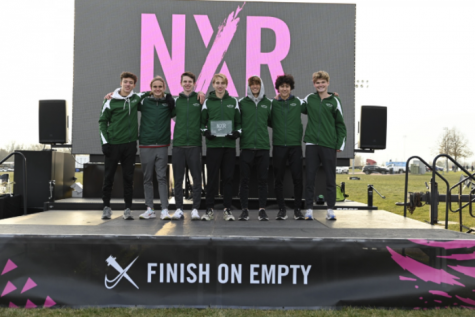 "Our team was stoked to have performed so well at this meet and to represent Nebraska," Marshall said. "It was such a fun experience, we were so close to beating the winning team; we were beating them going through the two mile, but it just didn't pan out in our favor. We feel ecstatic to have run so well, and hopefully we can beat that team at the national meet."
This meet concludes the girls 2021 season. Although they did not qualify for the national meet, they had a great season, placing fourth in the state and competing in the regional meet. For the boys they will be running again on Dec. 4, in the RunningLane Cross Championship in Huntsville, Alabama. This meet is replacing the Nike Cross Nationals (NXN) meet which is traditionally hosted in Oregon but was canceled due to COVID-19. Although the NXN meet was cancelled, the boys team will still compete against nearly all of the teams that would have competed in the meet as they look to place well on the national scale.