Back and better than ever
Millard West students make the most from the return of the student section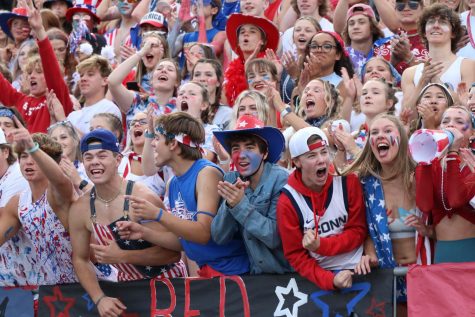 The COVID-19 pandemic affected many things about our lives. In relation to Millard West sports, one of the biggest aspects that was lost was the student section.
For many months, the bleachers lay dormant. With games in the fall limited and no crowd at all for most of the winter season, it was a part of the culture that was missed.
"The student sections don't compare to last year because we were limited to 200 students toward the end of the season," activities director Lance Smith said. "We've had great crowds at more than just football games. When I see the crowds at volleyball and football games, I see almost everybody participating. We want a very engaged and excited student section to make the atmosphere fun and get that home field advantage."
Going into the new school year, the student section was back and better than ever. They had garnered lots of national attention for their big crowd in recent games. Their first appearance was on a local Instagram account named theqbplug at a week three game against Millard South. After the video gained over 70,000 views, multiple other accounts started reposting the video naming the Millard West student section as the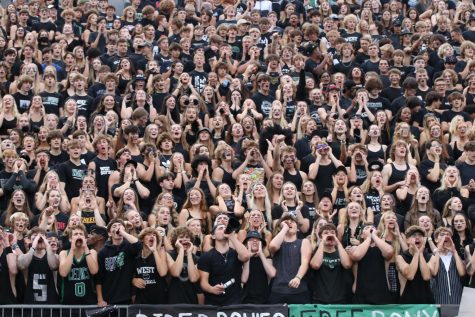 best one in the nation. The school has made appearances on ESPN, Overtime, USA Football, the Checkdown and more with the videos combining over seven million views.
"Being in the student section is like nothing I have experienced before," senior Brooke Sliva said. "Students get there hours before the game to get a spot in the front row. From the moment the team steps onto the field for warm ups to the last play it is screaming and yelling for your favorite player. The student section will definitely be a huge memory that sticks with me even when I am out of high school."
Students were eager to return to the bleachers as the school has redeemed over a thousand activity passes this fall. Through the first three football games, Millard West has scanned 600-900 passes every game as well as another couple hundred physical tickets. Home volleyball games have seen 200-300 tickets purchased for their home games. As the season went on, the support from the fans remained a constant with big crowds and loud cheers. In terms of how it affects the athletes, the support from the fans is heard and appreciated.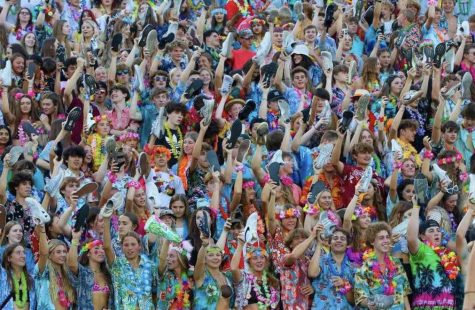 "It is a bigger difference than everyone thinks," senior football player Nick Flynn said. "It boosts the team morale and gives us momentum. Sometimes I'll be on the field and I can't even hear myself in the huddle."
The student section is something the student body at Millard West prides itself on making the best possible. Everyone hopes to continue to see them showing up and getting loud.