Wildcats race to the finish
Millard West competes in second meet of season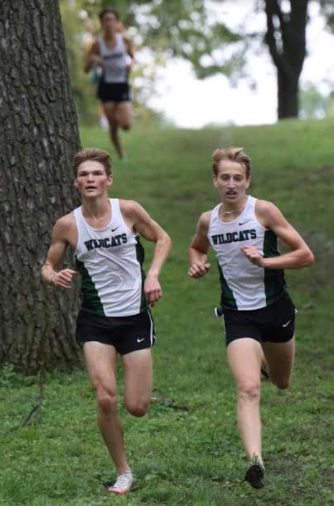 The Millard West Cross Country team made the short drive down Q Street on Sept. 4, to compete in the Burke Invitational meet at Walnut Grove Park.
The meet kicked off with the girls junior varsity team racing first. The Wildcats had four runners place in the Top 10. Freshman Kate Ebmeier finished first with a time of 21:47. Exactly a minute later, senior Niah Kirchner crossed the line to wrap up sixth place. Four seconds after that, junior Callie Kirchner crossed the line in seventh place. Coming in ninth place overall was sophomore Jersey Koza, rounding out the four Millard West runners in the Top 10. The girls junior varsity scored 39 points overall (lower points is better), giving them first place.
"We have really been focusing on endurance and keeping our race pace through many different style workouts so I think we all felt prepared going in," Ebmeier said. "We have been working sprints at the end of practice which is paying off. Walnut Grove is also a familiar course to most of us which was really helpful."
The second race of the day featured the girls varsity team. This race also had four Wildcats finish inside the Top 10. Junior Isabelle Hartnett continued her dominating performances from last year and finished first with a time of 19:29. Just less than a minute later senior Sydney Beaudin crossed the line in fifth place. Shortly after, sophomore Brianna Hernandez finished the race in eighth place with a time of 21:06. A mere two seconds later senior Sammi Vojslavek crossed the finish line in ninth place, and one second later senior Em Gilbert crossed the line in tenth place. Overall the girls varsity team scored 29 points, also giving them a first place finish.
The third race featured the boys varsity team. Six out of the seven runners placed inside the Top 10 with the final runner finishing eleventh. Seniors Seth Fey and Sam Kirchner finished in first and second place respectively. Fey finished with a time of 16:10 and Kirchner with 16:12. Junior Piercze Marshall rounded out a Millard West sweep of the podium finishing in third with a time of 16:20. Fifteen seconds later, sophomore Jack Witte crossed the line in seventh place closely followed by sophomore Porter Bickley in eighth and senior Cole Haith in ninth. Junior Joey Hartnett just missed the Top 10 with his time of 17:14, yielding him an eleventh place finish. The boys varsity team dominated the competition and finished in first place with a mere 21 points. 
"Our team worked very hard during the summer," Fey said. "The past two years we went runner-up at state. This year our mindset is different and we won't let it happen again."
The final race of the meet was the boys junior varsity race. Millard West had three runners place in the Top 10. Seniors Drew Figura and Christian Naujokaitis finished first and second respectively. Figura crossed the line with a time of 17:53 with Naujokaitis finishing in 18:28. The third and final Wildcat to finish in the Top 10 was senior Braedon Johnson, who finished in seventh place with a time of 18:51. The boys junior varsity team finished with a total of 45 points, yielding them a second place finish.
"Drew and I have competed against each other for the past four years and we have been relatively close each year," Naujokaitis said. "It is a ton of fun to compete with a teammate, especially since he is one of my best friends. We need each other to run well. If I didn't have him it would be harder to compete and he could probably say the same for me. He got me this race but I will bounce back and I am going to stay closer to him."
The meet was a very successful one for the Wildcats as three out of the four races were won by the team. They hope to carry this success into this Friday when the team will compete in the Millard South Invitational.