More than iron
Seven seniors walk away with an athletic award
It's no secret that many students are involved in Millard West athletics. Every year you see the football players wearing their jerseys on Thursdays, tennis players with rackets sticking out of their backpacks and encouraging posters of our athletes lining the walls of the commons before big events and more. However, some of these athletes are even more involved than the rest.  
Every year, senior athletes who participated in 11 out of the 12 sports seasons are recognized with a special award called an "Iron Cat." Beyond the T-shirt recipients receive, their name and picture will be displayed in the commons for years to come.
"As a school and district, it is one of our goals to promote multi-activity participation," Athletic Director Lance Smith said. " With the rise of club sports and other out-of-school options, it is becoming increasingly rare for students to participate in school sports year-round. We feel it is a significant achievement. Also, the Nebraska School Activities Association (NSAA) has begun a program to recognize all multi-activity participants who then become eligible to apply for scholarships at many of the state colleges."
This year seven students will be recognized for their achievements. Those include seniors Nick Brokaw, Reese Peterson, Dustin Hatch, James Conway, Ryan O'Grady, Kaden Williams and Jacob Jones.
Brokaw participated in four seasons of football as a cornerback (DB), track and three seasons of swimming. He plans on attending the University of Nebraska Lincoln next year and isn't sure whether he will continue running track in the future. 
"I really didn't have the Iron Cat in mind when I first started," Brokaw said. "It became important to me because I thought it would be cool to be one of the select few to get it."
Peterson participated in softball, basketball and both track and Unified track. She plans to take the junior college route by playing softball at Hesston College and hopes to transfer and play at a division one or division two school later on.
"Millard Athletics has taught me a lot of valuable lessons," Peterson said. "They've taught me the value of hard work, how to be a team player and how to keep working even when things get tough. Being a multi-sport athlete will definitely help me in the future because of those lessons."
Hatch, like Brokaw, did not have the award in mind when starting high school. He enjoyed partaking in tennis his freshman year, football his sophomore through senior year and four years of both basketball and track to keep him busy.
"Next year, I plan on attending Brigham Young University (BYU) in Provo, Utah," Hatch said. "I have been emailing the basketball coaches there and may be able to get on the practice squad or walk onto their team. However, if that doesn't work out, I'll play plenty of intramural sports, or it's also a goal of mine to run a marathon, so that could keep me busy, too."
However, Conway came in with the goal in mind, as athletes he looked up to had received the award in prior years. Conway played football as a middle linebacker, basketball as a forward/ center, soccer his freshman year as a goalie and track sophomore and junior year. Conway plans on playing football at Fordham University in New York next fall. 
"Sometimes it was challenging to manage three sports," Conway said. "Mainly basketball and football because they would often interfere with each other in the summer."
Similarly to Conway, Jones participated in football as a quarterback, basketball as a forward and track where he threw discus. Next year he plans on attending Midland University to play football.
"Millard Athletics has shaped into the person I am today, and I'll be forever thankful for that," Jones said. "Also, the coaches have taught me life lessons I'll use for the rest of my life."
Williams participated in football, wrestling and track in order to be active at all times during the year, and he plans on possibly walking onto the University of Nebraska Lincoln football team next year. 
"Athletics at Millard West have pushed me," Williams said. "I've become a better, stronger person, and it has prepared me well for my future."
O'Grady also wanted to stay in shape and keep active so he participated in cross country, diving and soccer at Millard West. He is moving on to Wayne State and will play club soccer for fun. 
"Sometimes it was hard because I had to make sure I focused on school work, not just sports," O'Grady said. "But it has helped me to stay positive and be a leader on some of my teams."
Overall, these Wildcats have been as tough as iron as they participated in all three sports seasons without major breaks. Balancing homework, a social life and all of their sports proved to be challenging but these athletes stuck with it. Although not all of these Wildcats will move forward playing their sports competitively, they all are walking away from Millard Athletics with life lessons and skills in hand in order to be more successful in their futures as college students. 
About the Writer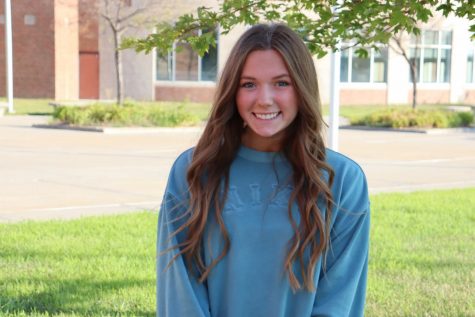 Jenna Reynolds, Features Editor, co-anchor MWHS Wildcat News
Jenna is a senior at Millard West and this is her second year on the Advanced Journalism staff. Her favorite part of Journalism is filming and editing...