Wildcats get revenge
Millard West takes down number one ranked Bellevue West on Senior Night
On Apr. 27, the varsity baseball team, ranked second, took on the top ranked Thunderbirds. These two teams had met earlier this year in the Metro Championship, resulting in an 8-1 Wildcat loss. 
This matchup consisted of two of the better pitchers in Class A. Junior Jaxson Cahoy went into the matchup with a 0.80 ERA (earned run average) and 41 strikeouts. For Bellevue West, senior Jaxon Jelkin had recently pitched a no hitter against Papillion La Vista in the semifinal round of the Metro Tournament. 
"The first game we played them it seemed as if they were more focused and didn't make as many mistakes as we did," senior third basemen Kyan Lodice said. "This time I thought our defense played a lot better, and we put a lot of balls in play to put the pressure on them."
This night was also the last home regular season game of the year. Before the game, the team and parents honored the 10 seniors on the team including Ben VanRooyan, Corbin Hawkins, Carter Betts, Dylan Swaney, Justin Deremer, Ty Kalb, Tyler Merkel, Kylan Lodice, Kael Dumont and Cade Owens. 
The two starting pitchers did not disappoint. No runs on only two hits were scored through the first five innings. For Millard West, Cahoy once again dominated. The only thing he did struggle with was getting high in count, which got his pitch count up high resulting in the Wildcats going to the bullpen a little earlier than expected. Cahoy pitched 5.2 innings, with 3 hits allowed, two earned runs, eight strikeouts and only two walks. After allowing two runners on in the top of the fifth though, he would be relieved. 
On the other side, Jelkin struggled but for the most part, was able to hold his own. He pitched four innings with seven strikeouts and only one hit allowed. The thing he struggled with was giving Millard West runners free bases. He pitched five walks throughout the four innings. In the second and third, he had runners at second and third but was able to get out of it. When he did it again in the bottom of the fifth, this time with zero outs, they took him out of the game and went to the bullpen. Senior Jack Bland would come in relief and pitched two strikeouts and forced a groundout to keep the game scoreless. 
"All the pitchers threw really well, even their guy that gave up runs," head coach Steven Frey said. "The first couple runs were because of errors. Both pitchers had good velocity and threw strikes. When there were runners on base, they did a great job of shutting the door." 
Scoring would finally start in the top of the sixth. Bellevue West's Carson Wright hit a soft ball down the third base line that Cahoy couldn't handle, and it ended up scoring a run to put the Thunderbirds up 1-0. Senior Gage Allen then rocked a ball into right field for a single RBI (run batted in) that scored Allen and put the T-Birds up 2-0. That forced the Wildcats to go to the bullpen where they put in junior Dylan Driessen. 
"This was definitely the biggest game I've pitched in as a Wildcat so I obviously had some nerves, but I was just trying to get that last out and get my team back to the plate where we could score some runs," Driessen said. "Their first batter got a hit and a RBI and that was frustrating so, from there, it was time to go right back at them. Having a great defense behind you always gives an extra sense of relief when you're on the mound, and that's what I think helped me to just throw it where they could hit and let my defense do the work."
The Wildcats needed an answer in the bottom of the sixth, and they got it in a big way. VanRooyan had a groundout that was enough to score junior Drew Borner with one out in the inning. Then with two runners on, Lodice hit a grounder to second that the secondbasemen ended up losing, which scored sophomore Peyton Moore and junior Devin Jones. That gave the Wildcats their first lead, but they were looking for even more. Bland hit two straight batters which would load up the bases for Kalb. Millard West needed a hit as there were two outs in the inning and they got it. Kalb hit a liner into right field which scored three and gave the Wildcats a 6-2 lead, giving them some insurance headed into the seventh. 
"The first pitcher that threw (Jelkin) was probably the best pitcher we have seen so far in my opinion, so it was hard to get something going," Lodice said. "We got a lot of runners on base early but couldn't capitalize until the sixth inning where we hit a couple hard balls to drive the base runners in."
They would let Driessen finish out the game, and he did his job. A strikeout, a groundout and a diving catch by junior Rice Whitaker end the game and give the Wildcats the win. This 6-2 win improved the Cats record to 21-8 and pretty much locked up a home district game. Driessen would be credited with the win, pitching 1.1 innings with one hit allowed and two strikeouts. 
"This game just gave us confidence especially after how the Metro Championship went," Frey said. "We've been playing really well pitching, playing defense and getting big hits with runners in scoring position. We feel that anytime we're on the field, we expect to come out with a win." 
Millard West will wrap up the regular season competing in the Millard South Invite this weekend and then facing Creighton Prep on May 3.
About the Contributor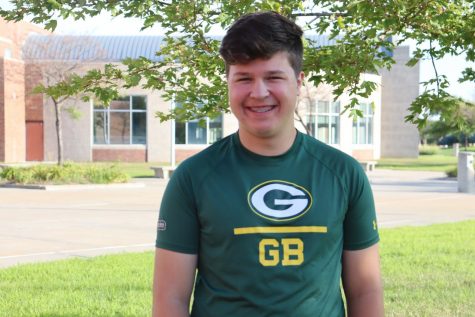 Jonathan Willis, Striv Executive Producer
Jon is a senior and this is his second year on the Catalyst staff. He loves sports and spends most of his time watching and studying them closely. He commentates...