Jazz Huddle
Freshman with hopes of commentating
The Utah Jazz are one of the top teams in the NBA and are riding high after setting multiple team and NBA records. Not only have the Jazz had great success this year, but so has freshman Blake Kahler. Kahler is doing much more than most freshmen his age are doing. Juggling school and homework, band, drumming lessons, and commentating, he is doing a lot.
Kahler is a lifelong Jazz fan, and has a lot of connections to the state of Utah. His grandparents live in Utah, and his mother was born in the state. He loves going there to visit family, and seeing the Jazz play.
He first got the idea to commentate after watching someone commentate a game on YouTube. "I watched [him] and I thought that it was interesting that [he] was able to do that," Kahler said. " To get a ton of people in there at one time and just have at the same place."
The person he was referencing was sophomore Addison Ruscoe, who lives 1,682 miles away in Florida. Ruscoe ran a channel called Little Man Knows Sports, with just about 3,000 subscribers on YouTube.
He had always wanted to be a commentator when he was younger, and started laying down the foundations back in 2018, ironically, on a dare.
"My friends all started a YouTube Channel back in 8th grade, and they were all like, "Addison, you should make one," and they knew that I wanted to be a commentator", Addison said, "So I actually created the channel as a dare, and we all had a subscriber contest to see who could get to XYZ first, so it was all a dare and I made it in front of all my friends, so it actually wasn't even my idea to start it, but after a little but I really started to enjoy it, and it really started to take off."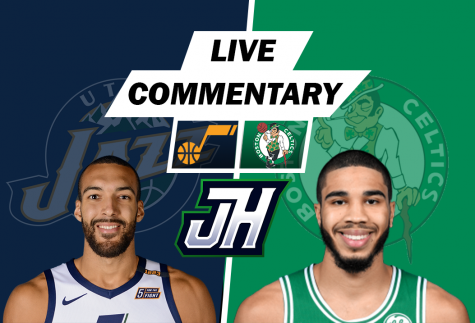 One person that Ruscoe was able to reach out to was Kahler, and Kahler took interest in what he was doing. 
"I would watch Jazz games that I couldn't watch on my phone or on TV or whatever through him because it was blacked out or I didn't have my phone or whatever," Kahler said. "I watched him and I thought it was a really cool idea and that it was interesting that he was able to do that."
One thing led to another and Kahler ended up reaching out to Ruscoe via Instagram. Kahler was wanting to start a channel of his own, and Ruscoe was kind enough to get him started, and the two formed a bond where the two would give each other some help, and at one point had a plan to do an NBA playoff game together.
Once the end of the Jazz season was over in a heartbreaking Game 7 loss to the Denver Nuggets, the two found they had one other big thing in common. Their love for the Utah Jazz.
While Kahler's path to like the Jazz was pretty straightforward, Roscoe's was a bit more winding.
"Back in 2013 I really wanted an NBA team, I was kinda just a LeBron fan, but I didn't really want to be one of those, and kinda wanted my own team to support, and I'm a big-time Michigan Wolverines fan and back in 2013, Trey Burke took them to a National Championship appearance," Ruscoe said. "So on Draft night it happened to be on television and wherever Trey Burke gets drafted to, I'll be a fan of that team for life no matter what happens to Trey Burke and he happened to get drafted by the Jazz on draft night and I've been a Jazz fan ever since".
The plan was set for them to both collaborate and make a channel, and called it The Jazz Huddle. They started off with small expectations, having around 20 or so people in each stream, but compared to how the two's main channels were at the time, it was a good start.
Then a graphic designer that had just gotten into using Photoshop came into the picture. 
Kahler's friend, freshman Logan Moseley, had been informed earlier that he had a channel that he commentated on, and seeing as he was an aspiring commentator himself, thought he'd check it out. Moseley added that he knew how to make thumbnails, something desperately needed to grow a channel and thought he could pitch in.
"I was just doing this for fun, and I like doing it, and get some extra cash on the side so I thought it was a win-win situation". Moseley said, "I enjoyed the content they created, and had always had a desire to do something like that of my own, so making the thumbnails was enjoyable".
Things began to boom. Their first stream with the new thumbnails coincided with an 11 game winning streak for the Jazz, and massive growth for their channel. From starting their channel just two months ago, and gaining over 700 subscribers, they are well set up for the future, whatever that may hold.