Dominating down the lane
Millard West Bowling team competes in a dual against Omaha Northwest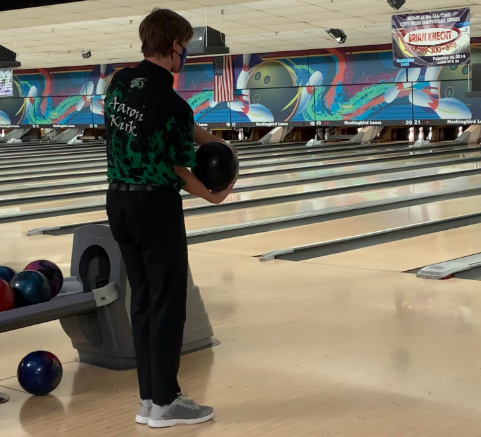 On Thursday, December 10, the Millard West Varsity Boys Bowling team took on Omaha Northwest in a dual competition. The team sent a total of six bowlers to the meet, however, only five bowlers competed per game. Seniors Jake Parkman and aron Kirk, junior Bryan Stuckenschmidt, sophomores Drew Lehman and Sean Murphy, and freshman Kai Smith.
The competition was scored out of 21 total points. The first and second games bowled were worth eight points each. One point is given for each bowler who bowls higher score than a bowler on the opposing team, and three points is for whichever team has the highest pinfall total. After those two games are complete, teams compete in three Baker games (where each of the five bowlers bowls two frames, to make up all 10) which are worth a total of five points for whichever team wins two out of three games.
Game one for the Wildcats went extremely well, and they were able to sweep all eight points. Lehman was the leading scorer for the Wildcats with a total of 233 points, he was followed by Stuckenschmidt with 222 points and then Smith with a score of 172 pins. The Millard West team combined for a total of 932 in the first game. After game one, Millard West took an 8-0 lead, five points for each bowler knocking over more pins than each Northwest bowler and three points for leading in total pin count.
"I listened to my coaches and stuck to the fundamentals," Lehman said. "The oil pattern on the lanes was just the way I liked them, which allowed me to consistently get strikes when I hit my mark."
The Wildcats were able to continue their success from game one into game two as well. Parkman was the top scorer for the Wildcats with a total of 183 pins, one pin below him was Murphy with a total of 182 pins, and the third highest scorer for Millard West was Stuckenschmidt with a total of 154 pins. After game two the Wildcats were able to add six points to their score, three points for three bowlers finishing ahead of the Northwest bowlers and three points for the higher number of pins knocked down than Northwest did. This brought their total to 14 points. Northwest was also able to pick up points for two of their bowlers, finishing ahead of two Wildcats, making the overall score 14-2.
"This is a bad game for me but I came back by slowing down and just listening to coach Smith for advice," Parkman said. "Overall, I think we could work on our spares and stay consistent in every game and frame."
The final game of the match was a Baker style game. There were supposed to be three Baker games played however, only one was played because the deficit was too much to overcome. During the Baker games, each bowler bowls two of the frames to make up the total of ten frames. The Wildcats were able to bowl a total of 172 between the five of them while Northwest bowled a total of 169. Overall, the Wildcats were able to pull out a narrow victory, giving them a total of 19 points.
"We will continue to work on spare shooting and transitioning as the lane conditions change, but overall, the boys bowled well," head coach Megan Smith said. "We've got some talented bowlers on that team, and when they are on top of their game, they are tough to beat."
Once the Baker's game was complete the points were added together and they showed a clear Wildcat victory. Millard West had a nearly flawless performance, winning 19-2, giving up their only two points in the second game. It was a dominating competition for the Wildcats and will give them lots of confidence heading into the next matchup. The Wildcats also competed in a meet Tuesday, December 15, which they were able to come home with victory over Creighton Prep. The next competition will take place Tuesday, December 29, and the Wildcats will face off with Lincoln Pius X where the team hopes to continue its strong season.