Warm for the holidays
Senior sells homemade blankets during the Christmas season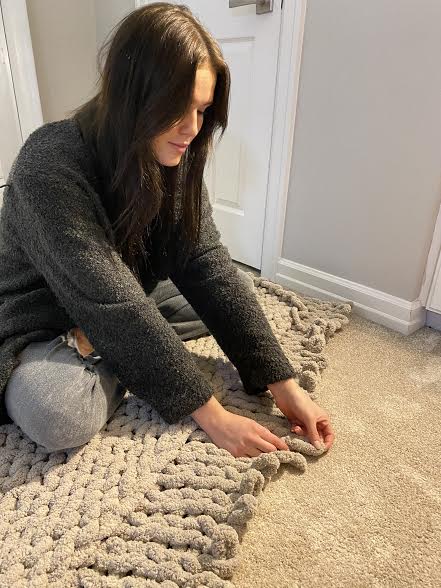 Upon taking a trip to a local Hobby Lobby, one might notice that the yarn aisles are beginning to appear rather empty. The culprit is none other than senior Paige Stobbe, who has recently taken up a unique hobby.
Paige is able to transform 10 skeins of yarn, which cost about $5 each, into a full-sized chunky knit blanket. These particular types of blankets have been very trendy lately, and are all the rage on popular apps such as Pinterest.
While this craft initially started as a means of staying busy, Paige quickly realized that she wanted to expand it into something bigger.
"The idea first came in March when everything was starting to shut down due to Covid," Paige said. "I was so bored because my mom wouldn't let me go anywhere, so I looked up things I could do at home. Making blankets was one of the things that came up, so I went to the store the next day to get supplies. After making a blanket for myself, I decided I also wanted to sell them to others during the holidays."
Paige was able to learn the blanket making process through YouTube tutorials. She can now finish an entire blanket in about three hours, but it is a very tedious task. One by one, each row of the blanket must be carefully hand-knit until it reaches its full length. This is accomplished by repeatedly pulling a series of loops through one another.
"When Paige isn't working at her job, she is busily working on the blankets," mother Kellie Stobbe said. "She can literally whip one out over the course of a movie. It is so satisfying."
These 60 x 70 inch blankets are made from chenille yarn, which is a very soft, high-end material. From the brand that Paige uses, there are 13 colors available that she can knit into either a solid or striped pattern. She charges $99 for each blanket, which is comparable to the price in which they are sold in stores.
"Buying blankets from Paige is super helpful because you don't have to go to the stores to know the quality of the blanket you are getting," customer Molly Koca said. "You can trust that she will make an amazing blanket without having to check it out beforehand. I took mine to college and it's the best addition to my dorm room."
Paige advertises her blankets on Facebook and has already gotten a total of 14 orders placed. Aside from the orders and money, making these blankets has also benefited Paige in other ways.
"I have always been very into crafts, and it's always been a way I could escape for a little bit," Paige said. "I have been sewing for the last couple of years and that was always something that I loved, and now I have the blankets as well. It's kind of like a little outlet when everything gets so hectic in my life. I made one of the blankets for myself, and it is my absolute favorite, so knowing that I can make that for someone else makes me feel really good."
In addition to providing Paige with a creative outlet, those close to her have noted that selling these blankets has taught her other useful skills as well.
"These blankets have taught her about being organized," Kellie said. "She has developed a spreadsheet as to who ordered what, payment, completion and delivery. She has also learned about time management by getting all of the orders done by a deadline."
With many orders still being placed, Paige continues to work on these blankets and hopes to get even more orders throughout the holiday season.