Painting her passion
Senior creates art mural for the theater department
From sports to fine arts, many students get involved in some type of extracurricular activity at Millard West. Everyone hopes that their contributions will leave a lasting mark on the club once they are gone. Senior Ceibhionn Stevens has the opportunity to do exactly that with a mural she is painting for the Drama Club.
When Stevens was approached by theater director Brooke Phillips to paint a theater mural, she jumped on the chance. The mural will go in the hallway behind the auditorium, and it is planned out to contain many elements that represent what theater is all about. Stevens hopes to mix traditional theater references, such as the typical theater masks and crew elements, along with her own personal style of art.
"The elements of theater I am trying to incorporate are the theater masks, lights and our personal troupe traditions," Stevens said. "I didn't want the stereotypical masks to be in the mural, so instead I took a style of mine and made three faces. They display the theater masks' emotions, and I added a third one for a more aesthetically pleasing look. There are three lights above shining on the masks which represent the crew aspect of theater. There will also be our theater troupe number and senior handprints, which are a tradition we have in the Drama Club."
With such a big task to fulfill, Stevens knew she would need a second pair of hands to help complete the mural. She asked senior Sam Wilburn to step in as her assistant artist, so that they could share ideas and designs. Wilburn has been on the crew side of theater since freshman year, and this project is just one of many that he has helped design for the drama department.
"I think students will be very excited about the mural," Wilburn said. "Theater is such an artistic and expressive art, so a mural seems to fit in. I'm surprised that we haven't made a mural in that hallway already."
A very unique part of the mural will be the handprints of all the graduating 2021 seniors who are involved in theater. In past years, graduating seniors in the drama club have placed their handprints in the walls of the auditorium scene shop as a farewell. With COVID-19 changing many senior traditions, everyone involved in the planning process wanted to do something special for the seniors.
"I think it will be awesome to have a representation of something permanent for all our theater people to see everyday," Phillips said. "I also think it will mean a lot for the current graduating seniors, too, with the incorporation of some of our troupe traditions, such as the handprints, in the mural."
Stevens hopes that future students can look at the mural and feel inspired to join the theater community. She wants to share the message with prospective Drama Club members that the club is a family and joining it makes them a part of it.
"I think future students will look at the mural and feel they can resonate with the department and feel like they're a part of something," Stevens said. "I want them to also look at the handprints on the mural and see that they are part of a bigger community that goes back years. That's how I've felt while seeing previous students' handprints in the scene shop."
With the planning process done, Stevens will move on to painting the mural once all of the materials are in. Not only will this piece of art be an accomplishment for Stevens, but it will also be an honor for all of the drama club. Members will be able to look at the wall and remember their time spent in Millard West Theater and what it has meant for them.
About the Writer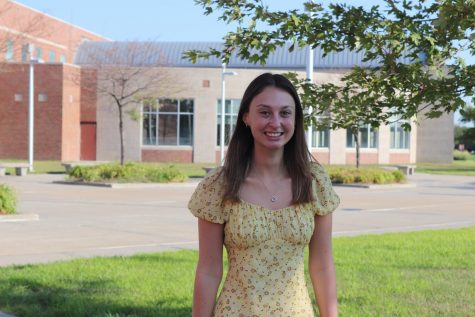 Anna Blumenthal, Entertainment Editor
Anna is a senior at Millard West and is returning for her second year on the Catalyst staff. She loves having an outlet to express her views on the world...