From student to instructor
Senior choreographs dances for her studio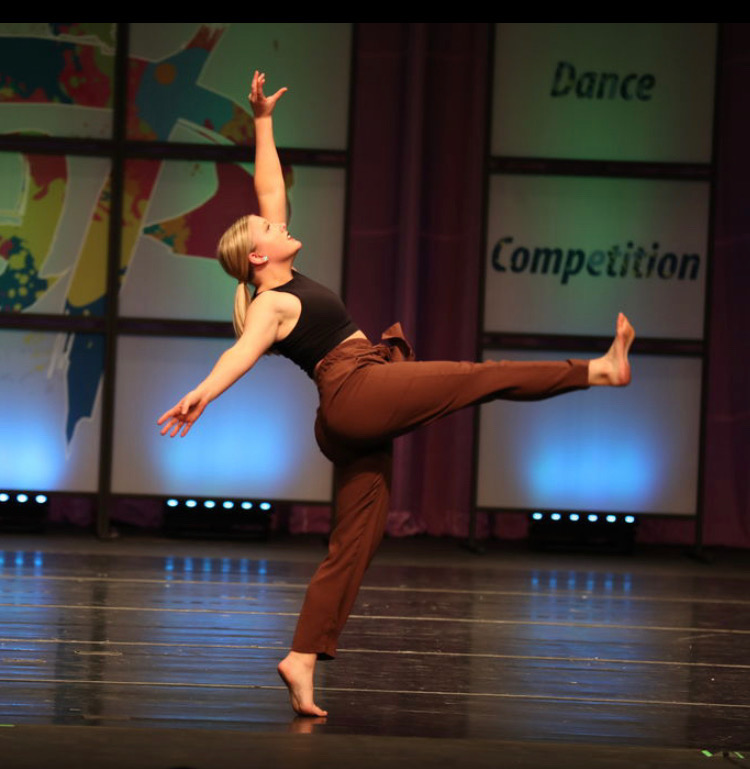 Dancing is a way to convey a story through the usage of movement. From hip-hop to lyrical, dancers must put in an extreme amount of work and dedication into the art. Although many might take classes when they are younger, only a few dancers continue to improve and work their way to the top as they get older.
For senior Vivien Gaines, dancing for her competition team was not enough. As she grew up, Gaines discovered a passion for teaching others besides just taking classes herself. By testing out various styles and techniques, Gaines was able to find a way to choreograph interesting routines that she could teach to fellow dancers at her studio, Fusion Dance.
"Growing up as a dancer, I was always interested in and inspired by the teachers and choreographers that surrounded me," Gaines said. "I started to experiment with my own movements and ideas, and I fell in love with choreographing. I also love being able to portray music in my own way, which is why choreographing and creating mean so much to me."
From a very young age, Gaines has been working her way up in the studio. She has participated in the Fusion Dance Competition Team from elementary school through high school, and has grown up with dance. Her dancing gives her a creative outlet and helps her to build up leadership skills.
Gaines' choreography centers around musicality. She loves exploring different genres and finding a blend of styles to use for each dance. Sometimes at competitions, songs can get repetitive, so Gaines tries to change it up. She also has to make sure that her dances convey the story she aims to tell.
"Whether I'm choreographing for myself or other dancers, it's important that I can connect with the music," Gaines said. "Once I understand the song's vibe and the direction I want to take the choreography, I start playing around with movement and which beats stand out to me in the song. Throughout choreographing a dance, I think about how I can travel the dancer across the stage and use levels to create dynamics and keep the dance interesting."
Gaines has a strong support system in her dance studio that helps her stay motivated. Her teachers gave her the opportunity to start choreographing for others in the studio which helped Gaines grow as a dancer. Not only do her teachers inspire Gaines, but she also helped to inspire them as well.
"I have watched Vivien start as a shy quiet 7-year-old in class evolve into a confident, captivating and innovative dancer, performer and choreographer," dance instructor Timaree Craft said. "She inspires me by never settling and always pushing to try new things."
Fellow dancers also look up to Gaines and see her as a leader in the studio. She is known as someone who is always working harder and improving her skills as a performer. Gaines is able to push herself and develop new skills frequently. Despite starting out as a shy kid, Gaines has grown up to be a fantastic leader at her studio that others look up to.
"She is a good leader because she always brings positive energy and she sets a good example for dancing and being a good person," teammate and junior Abbie Woebler said. "She never gives up and always brings something new to the table with her dancing."
Not only has choreographing helped Gaines learn what it means to be a teacher, but it has also helped her improve as both a dancer and a student. There is nothing that beats the feeling of accomplishment when she is able to craft a new routine. Gaines hopes to always keep choreographing in her life and to keep expressing herself through dance.
About the Writer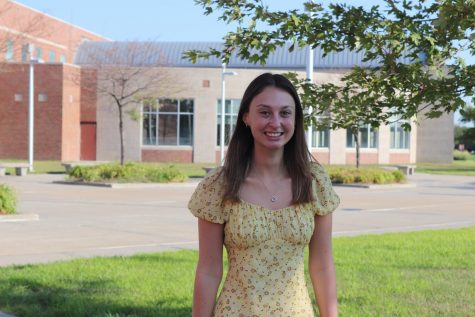 Anna Blumenthal, Entertainment Editor
Anna is a senior at Millard West and is returning for her second year on the Catalyst staff. She loves having an outlet to express her views on the world...