Brewing up a good time
New coffee shop opens up in the heart of Legacy
Coffee—one of the many things people say they can't live without. It's how many people start off their morning to get a jump start. Some find coffee shops to be a great way to socialize and catch up with others. However for these local business owners, Tiffany Murphy and Jenny DeCock, it was much more than just the simple beverage. 
After several construction delays in the beginning of January, Stir Coffee Bar opened August 8 in the Shops of Legacy located in West Omaha. 
The owners, Murphy and DeCock partnered up after several years of knowing each other to bring what they thought the area was missing: a local coffee shop. The two wanted to create a space where people in the community could make connections and reconnect old ones. For this reason, they longed to continue to strengthen the metro with human interaction, even with something as simple as a cup of coffee.
Instead of just serving caffeinated drinks, they decided to also sell pastries, small food platters, teas and merchandise. 
As soon as I walked into the shop, the room filled with the sweet and heavenly aroma of coffee, and I instantly felt the comfort of the place with the cushioned seating, colorful walls and simple decoration including local painters' work.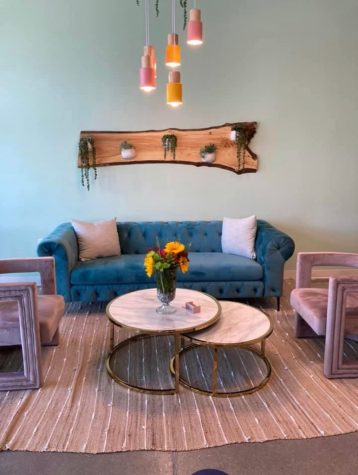 On the right wall of the store, I saw the retail wall filled with knick knacks ranging from earrings, to candles, to coffee beans and notebooks. The line of products all come from local shops including Fine and Funky Earrings, Mariah's Calligraphy Plants, Nomad, Homaha Tee's and Blume Dog Bandanas.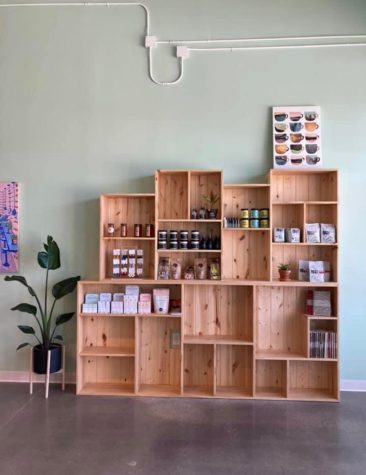 They told me about several specials and flavors of coffee, tea and sweet treats. Looking at the menu, I noticed that they do work with many different companies including local businesses. Their coffee is provided by Oddly Correct Coffee Beans located in Kansas City. Pastries are from Sweet Magnolia's Pastries and Holly's Healthy Holes. Their to-go platters are from Clean Slate, a mart that is driven with a healthful focus. The tea is supplied from The Smith Tea.
As soon as I got up to the counter, I knew exactly what I was going to order from a recommendation I saw on a Facebook group member in the Omaha Food Lovers page. I got a 16oz. Iced Honey Vanilla Latte, a Hibiscus Cooler and Everything Bagel Toast. 
For not being someone who drinks coffee regularly, I really enjoyed every sip of the drink. For the 16 oz. it was $4. I found this to be a reasonable price point compared to other shops and larger chains. I thought it was very flavorful and sweet. The subtle hint of honey really blended well with the vanilla profile of the drink. 
The Hibiscus Cooler was a drink that really intrigued me. This loose sweet and herbal tea is made from larger leaves in a tea bag blend, and is made by The Tea Smith. I have tried other flavors from their actual shop and have always loved the blends they create. This one definitely exceeded my expectations. This drink exceeded my expectations and for $3, I thought it was fairly priced. 
Last but not least I got the Everything Bagel Toast and added on smoked salmon lox. The regular pricing without the salmon is $8, with the addition on the platter, there was an upcharge of $3. I thought the dish was so good, the ratio of avocado to salmon and the other toppings was just the right amount. There was a nice crunch to the bread as soon as I bit into it ending with the savory flavor of the capers. I really enjoyed this bagel toast and will definitely go back for it.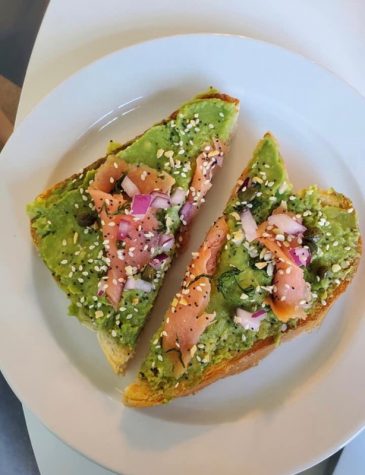 Stir Coffee Bar has been very busy since their opening just a few weeks ago. I loved the vibe of the restaurant as a whole and will be going back very soon. I hope to try various food items as well as new coffee drinks. I recommend this shop to anyone who wants to try something new and explore their palate.