Accessories for people and animals
Senior sells matching scrunchies and doggie bandanas
Accessories help to add personality and color to any average outfit. Lately, hair scarves and patterned scrunchies have been all the rage amongst young women. For senior Kody Horrocks, these popular hair pieces are not just for people.
Horrocks has used her time over the summer to start a brand called Krt by Kody. Her shop sells handmade scrunchies, hair scarves and dog bandanas. These colorful, printed accessories come in matching sets so that anyone can match with their pets. The handmade products can be found through her Instagram page (@krtbykody) or on the popular e-commerce website, Etsy. 
"I wanted to make extra money, so I started this business so I could do something I loved," Horrocks said. "Etsy seemed like a good starting point; it makes it really easy to sell things. There's a $0.20 fee for each listing, but it's worth it for what I'm getting out of it."
Since middle school, Horrocks has been very intrigued by the fashion industry. She first started sewing in a sixth grade sewing course that was required by the school. Horrocks found it very fulfilling and has been sewing from time to time ever since. Her shop has helped her to improve her sewing skills.
"I've been making stuff on and off for a while, but now I can be consistent with my sewing," Horrocks said. "The most rewarding part is getting to see people and their animals happy when they're wearing items that I made."
Although Etsy makes it easy for anyone to find Horrocks's products, many friends have made sure to support her along the way. From buying products to writing reviews on her Etsy page, these people have worked hard to show their appreciation for her work.
Senior Lily Manthey was able to buy a plaid matching scrunchie and bandana for her and her dog. She loves being able to support Horrocks as she watches her brand expand. The unique idea has helped Horrocks to spark her creativity and connect to other dog lovers in the area.
"I usually wouldn't have bought something like this, but I wanted to support my friend," Manthey said. "I love being able to match with my dog and I specifically ordered a fall looking pattern as that season is coming up. I have loved my purchase and my dog wears his bandana everyday."
In order to spread the word about her own brand, Horrocks has also started to work with other retailers on Etsy to do collaborations. Currently, she is selling the MOLLIE bandana and scrunchie set of which 15% of each purchase's proceeds will go towards the cancer care of @mollietheairedale on Instagram. As a dog lover herself, Horrocks wants to use her earnings from the store to support animals battling medical conditions.
Her first collaboration was with Sebrina Houser (@amorsojewelry), an Etsy retailer who sells handcrafted, polymer clay earrings. They partnered by starting a giveaway in which one winner would receive products from both stores. With more than 400 entries, the giveaway was able to help attract more customers to both brands.
"Kody and I decided to collaborate to boost our following and because we are both admirers of each other's products," Houser said. "As I've gotten busy with college, I've slowed down on posting and creating. Kody has inspired me to continue to do those things. She is a sweet, bright soul and that's reflected in her work."
Horrocks hopes to keep creating new sets of accessories for a long time. Her store has helped to rekindle her love for sewing and her passion for creating. By going along with her unique idea, she has been able to connect with fellow crafters and donate to fellow pet lovers.
About the Contributor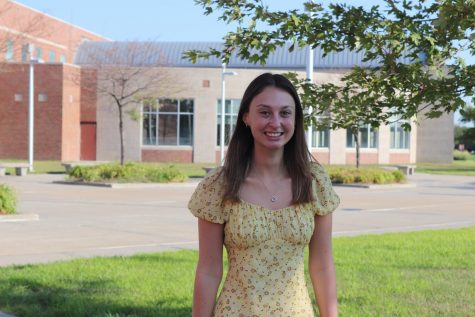 Anna Blumenthal, Entertainment Editor
Anna is a senior at Millard West and is returning for her second year on the Catalyst staff. She loves having an outlet to express her views on the world...