Cheering for the win
The Varsity Cheer team heads to State
On Saturday Feb. 22, the Millard West Varsity Cheer team went to the state competition, in Grand Island. They recently competed and won at Nationals in Orlando, Florida, and had been preparing for State ever since.
They had both a Tumbling and Game Day routine. Both State winning routines were choreographed by Stefani Lane. She has been choreographing their routines for years now and has gotten really good at it.
The scores that they earn are broken down into two sections; cheer and music. The overall score is out of 100 points total. Their gameday got a score of 93.95/100, and their tumbling routine got a score of 90.65/100.
"We did really well at State and our routines got some of the highest scores that they have gotten all year," sophomore Brenna Matthews said. "We won with both of our routines so we got two state metals. I'm so happy with our results at state."
The team practices for the majority of their week. Practice is on at least four days a week with a minimum of 10 hours each week. Extra practices are added when they get closer to one of their bigger and more competitive competitions.
"We do a lot of team building inside and outside of practice." Cheer coach Stefani Lane said. "We also watch our routines after the competitions to see where we can improve. We are very happy with what we accomplished at State and throughout the entire season.
They have been working on these routines since they started summer practices in July. The routines have to change over time due to different competitions they go to. Their tumbling routine has remained the same since nationals, but they had to add some stunts to their game day routine. This meant even more practice. They had to be seriously committed so that they can get all of their movements spot on.
"My favorite thing about cheer is being able to go out with my team and put forth an amazing routine," sophomore Elyssa Feist said. " I like to do competitive cheer more than sideline because I like having a routine and being able to tumble."
The team has been undefeated all year. They have been one of the top high school cheer teams for years now. The Millard West varsity cheer team has a very good reputation in the cheer world and hope to keep it that way in the coming years.They are proud of their accomplishments and hope to do the same or even better next year.
About the Writer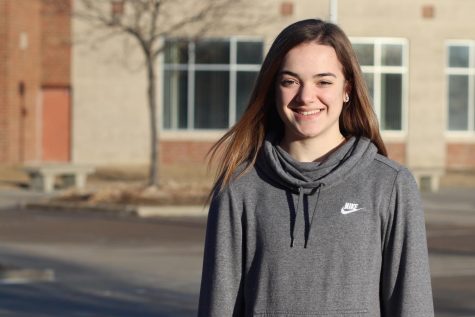 Peyton Busteed, Staff Reporter
Peyton Busteed is a sophomore and this is her first year in Broadcast Journalism. She is also involved in Student Council. In her free time she enjoys...