Kobe's Legacy
A look back at a Cinderella story of a lifetime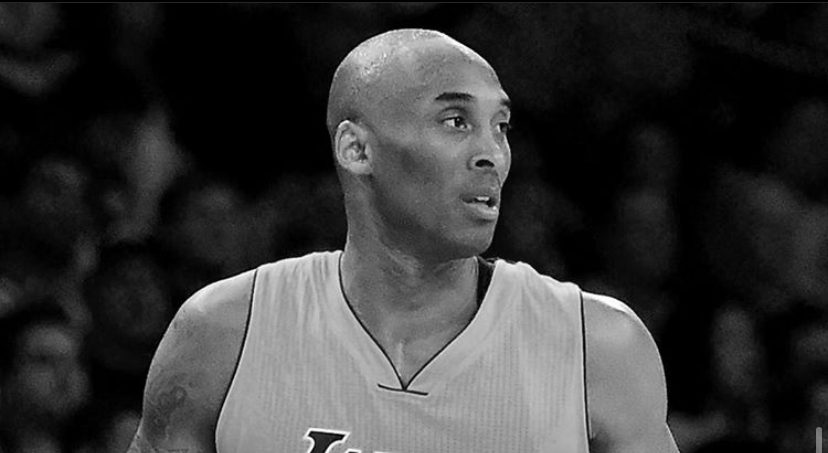 Cody Bennett, Exectutive Striv Producer | Sports Director
January 31, 2020
A normal Sunday, January 26th, no school or work, families out and enjoying the Nebraska sunshine after weeks of stinging cold wind. But then, an odd message pulls up on California media outlets. A "helicopter crash" was reported in the hills of Calabasas, California. Upon more investigating, nine people were on the flight at the time of the crash, one of the nine was 41-year-old, former NBA player, Kobe Bryant. The news spread like wildfire, a TMZ article first reported the crash that caused Bryant's death. The impact that Bryant had on this world cannot be understated. Considered one of the Greatest of all Time (GOAT) players, Bryant left an unerasable mark left on history. The Grammy's had his #8 and #24 Los Angeles Lakers jerseys above the stage. During the Celtics vs. Pelicans game, both teams took 24 second shot clock violations. MSG stadium in New York turned their Knicks stadium into the gold and lavender colors of the Lakers uniform, and allowed for a moment of silence before the game, illuminating the court with 8 and 24. The shot and game clock ran down from 24 and the game proceeded. This is a story for Kobe, a legacy filled with success and teachings. This is Kobe Bryant.
Bryant was born on Aug. 23rd, 1978 to Joe Bryant and Pam Bryant in Philadelphia. Flash forward through Kobe's childhood to high school. Bryant breaks the all-time scorer for southeastern Pennsylvania basketball, and was named National High School Player of the Year by USA Today and won the Naismith Player of the Year at the age of 18. 
Right out of high school, Bryant was drafted by the Charlotte Hornets as the 13th pick in the NBA draft, but the draft rights were given to the Los Angeles Lakers after a trade for Center Vlade Divac. Kobe becomes the youngest player in history to start his pro career in the NBA at 18 years, 2 months and 11 days. He secured the title of being the NBA All-Rookie second team after averaging 8 points per game as well as 16 minutes off the bench. And after all that same year, at age 19, Kobe is the youngest player ever to play in the NBA All-star game. 
In the 1999-2000 season, Kobe and Hall of Famer, Sahquille O'Neal team up on the Lakers squad and win Bryant's first championship beating the Indiana Pacers in six games. Bryant averaged 29 points in the 2000-2001 season with Shaq, they took over the NBA and won their second straight title. But they weren't done yet, the next season, the Lakers "Threepeat" against the Brooklyn Nets, even as far as swept them. On Jan. 22, 2006, Bryant scored 81 points against the Toronto Raptors, 19 points shy of Wilt Chamberlain's 45+ year record of 100 points a game. Bryant led the league in that season with 35 points per game. During the Summer Olympics in 2008, Bryant was chosen to represent the United States of America for basketball. With big names like LeBron James and Dwight Howard, the USA took home the gold in basketball. Kobe was only in his mid 20s. In 2009, Kobe won his fourth title in his career against the Orlando Magic, and the year after that, he returned to the finals and wins his fifth title, as well as being named MVP of the series after the Lakers beat the Celtics in game seven.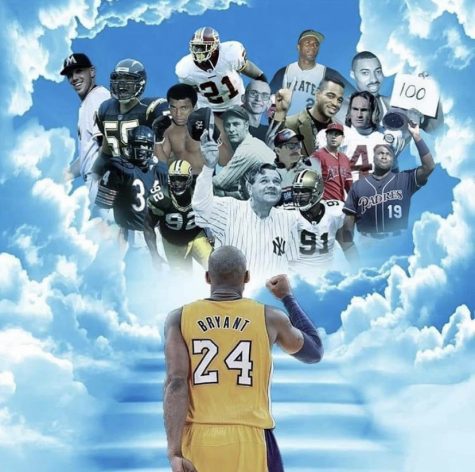 This was just a glimpse of what Kobe did during his lifetime, unfortunately cut short by a helicopter crash. The news spread like wildfire on Sunday after the media caught wind. ESPN was and still is a major factor for remembering Kobe, posting highlights and emotional moments and videos. 
The King, LeBron James, had trouble expressing his feelings toward his loss saying, 
"I'm not ready but here I go…[I'm] sitting here trying to write something for this post but everytime I begin crying again just thinking about you…I just heard your voice Sunday morning before I left Philly to head back to LA. Didn't think for one bit in a million years that would be the last conversation we'd have."
James was a very close friend toward Kobe, the bond that they've made on and off the court is to be admired. James and Bryant competed in championships and shared a gold medal.
In Nashville, the bridges around the city were lit with purple and gold around highways, honoring the 41 year old who gave children a culture of throwing a paper ball and yelling, "Kobe" and it going in, the man who was a terrific basketball player right out of high school, but even better parent to his young children. 
Fans across the world were shocked to the core, those in Asia, Europe and South America expressed their condolences. Fans outside of the Staples Center set up a makeshift shrine for their hero, bringing a massive picture of him framed in gold, and brought many different basketballs, jerseys and bouquets of flowers. They even placed a trashcan in front of the stadium with many different crumpled up pieces of paper and a sign discreetly saying,
"You know what to do," meaning, yell at the top of your lungs and shout out his name while throwing the crumpled ball into the trash can.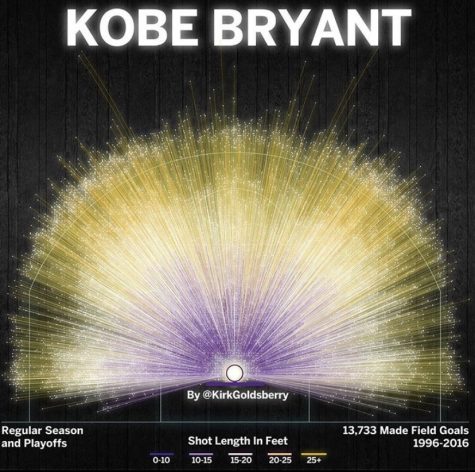 Much more has happened throughout LA, the United States and even the world. Kobe left such a major impact and an inspiration that anything is possible, a kid fresh out of school, playing on the biggest court in the world. NBA 2k20 even paid nod to Kobe, with the opening title changing it with a picture of him and a note card sized announcement with a black and white photo of him and the year of birth and the year of him passing. 
There have been plenty of different petitions calling for the NBA to change the NBA logo to Kobe, as well as a post that has circulated throughout this past week, a new way to play pickup basketball. Play onto 24, by 1s and 2s, if you miss your 24th point, you go back down to 8, making a call to both of Kobe's numbers. 
Bryant left an impact in so many people's lives, kids and adults alike and this tragedy goes to show that life can be cut very short, regardless of social standing or popularity. For all of the kids and adults that grew up yelling his name to sink a shot, or people that knew him and used to watch him, please give a hug to someone that has played a big part in your life, because like LeBron stated, "[I] didn't think for one bit in a million years that would be the last conversation we'd have." But now, instead of yelling "Kobe," make sure it's "For Kobe." 
About the Contributor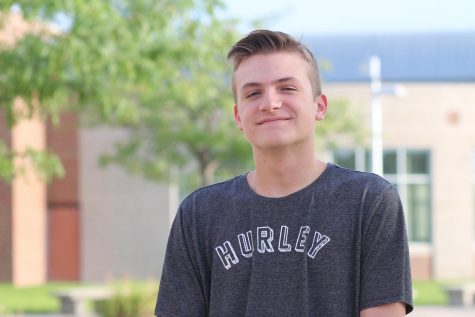 Cody Bennett, Sports Director | STRIV Executive Producer
Cody is a senior and on his third and final year on the Catalyst staff. Throughout his career, Cody was on staff for a Pacemaker Finalist and won 7th in...