First round state volleyball
Millard West Faces Gretna in the first round.
On Thursday, November 7th, the Millard West Wildcats took on the Gretna Dragons in round one of the 2019 NSAA State Volleyball bracket. Ranked at #5, the Wildcats looked to beat #4 Gretna. The winner of this match would take on Millard North in the semi-finals, after the Mustangs beat #1 Papillion La Vista. 
All season, the Wildcats fought hard to prove themselves, day and night the Wildcats had their mind set on State. The Wildcats arrived at Pinnacle Bank Arena and were ready to play their best. 
"Our game plan on Gretna was just to go play our game and focus on what we can control," senior Cameron Young said. "Ultimately, we wanted to have lots of fun during the whole experience because it was an unforgettable memory."
In the first set, the Wildcats found a quick start and jumped up with a score of 8 points to zero. After a lot of scores back to back, the Dragons were up in the end of the set. The score was 20-14 as Gretna was closing out. The set finished with a score of 25-14, Gretna was now leading the match 1-0 as the second set had started.
The second set started and it was very slow, Gretna got up to 11 points and the Wildcats flipped a switch and started dominating. Millard West got up to 25 points and held Gretna to 11 in the second set. 
The third set had started and the Dragons dominated from here on out. The third set would be a quick one due to the Dragons who were getting a lot of points up on the board. The fourth set was the final hope for the Wildcats as they were down 2-1 sets. They fought hard but Gretna closed out the fourth set and won the match. Millard West was eliminated but they kept their heads up after a very good season. 
"We fought hard all season and our team was happy with how we played," senior Hannah Domandle said. "I'm going to miss highschool volleyball and all the memories I made along the way."
It was a hard fought season for the whole team, especially by the seniors. Seniors Hannah Domandle, Gabi Nordaker, Cameron Young and Cora Mccoid all had a great final season for Millard West. This year's junior class must step up next year in order to fill their duties and be even more competitive.
About the Writer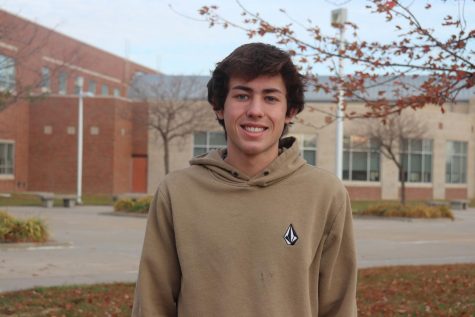 Noah Walls, Staff Reporter
Noah is a senior at Millard West and this is his third year in Advanced Journalism. Noah enjoys covering sports through broadcast and written stories....