Right up their alley
Cats strike against their past rivals in Unified Bowling
The ball glides smoothly across the planks, crashing into the pins until none stand. The cat roar almost comes immediately as high fives flood from athletes and partners alike. The Unified Bowling team does this each week, but on Nov. 11 they faced their Q Street rivals- the Millard South Patriots. With an ending score of 3001 to 2921, the Cats found victory similarly to last year.
With 35 bowlers, 14 athletes and 21 partners, small teams of four to five were formed on each lane. In order to count points, each team does a baker's bowl. This essentially means that all the partners and athletes on the lane play as one person. This allows to get an overall score of each team and holds each person accountable towards getting a score for the team. Bowlers perform six different games, varying turns from partners and athletes each round.
"Each set of baker's games prepares us for the next set and to improve," head coach Jan Lehms said. "Ultimately we want the best district team of five we can put together."
The meet prepared each team for later meets and shows who can be possible candidates for districts. On the other hand, in order to prepare for this meet, bowlers gathered at Western Bowl Mondays and Wednesdays, where they bowled after school until five o'clock. During these practices, players were corrected on their form and athletic stance. Lehms and partners were big parts in making sure everyone has a chance at being the best bowler they can possibly be.
"I feel like the season and the meets have really had an improvement on my game," senior partner Ryan Pierson said. "Other teammates also help me with my form which led me to get more strikes and spares this meet."
Compared to the other two meets so far this season, this meet against Millard South was a breakthrough for several students. Gaining a high score each practice is always rewarding, but students found ways to interact with one another to provide an overall better score for each bowler.
"Playing against Millard South is always fun," sophomore athlete Connor Jeffrey said. "This time I got more strikes compared to last meet. I think its been all the practice and help I've gotten from my coaches and teammates. They are always supportive in cheering me on. This helped me get more strikes through the past weeks."
This meet only served as a stepping stone as the Unified Bowling team prepares for more weeks over the upcoming weeks and districts against other unified teams in Nebraska.
About the Contributor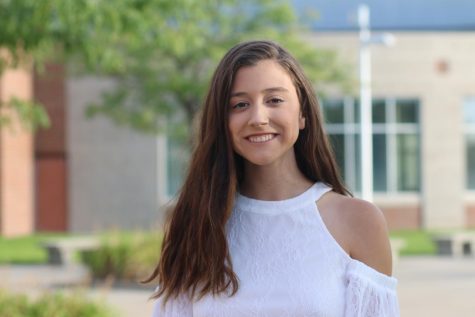 Bailey Christensen, Assistant Broadcast Editor
With her second year on staff, Bailey takes on her senior year representing the Millard West Catalyst and MWHS Wildcat News. She enjoys playing lacrosse,...