Hamilton is nonstop fun
The show that has become a national phenomena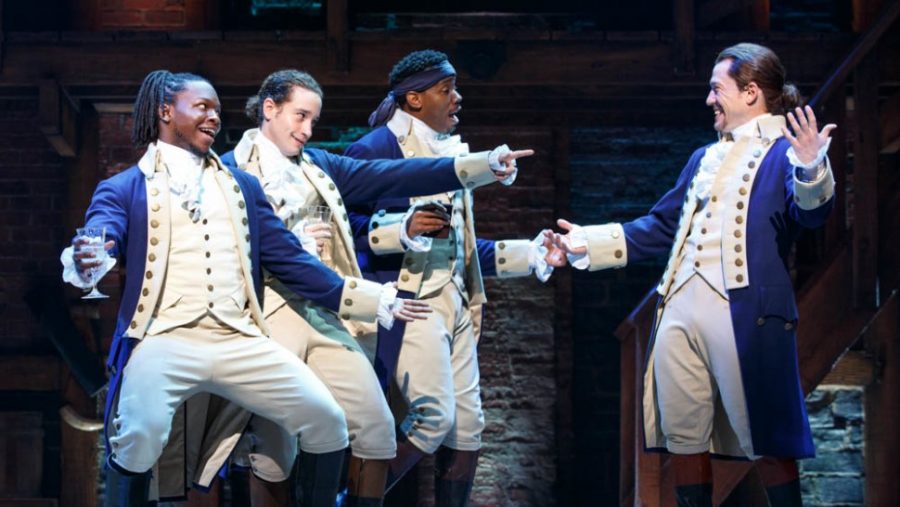 When most people think of American history, they picture a bunch of old guys in powdered wigs. Not many think of an exciting revolution, intense cabinet battles and the colonists' struggle for freedom. It is hard to get teenagers interested in the founding of America by reading about it in a textbook. The musical Hamilton presents the late 1700s in a new and fascinating way. Through the use of music, dancing and rap battles, Hamilton has taught many people this information while simultaneously becoming a huge success.
The musical follows Alexander Hamilton, one of our founding fathers. It observes his poverty filled and death ridden childhood, up until his final breath. While following him from his journey to get to America (despite many hardships to obtaining his role as department of treasury), it also teaches people about our very nation itself. Instead of reading about the battle of Yorktown, Hamilton shows the struggle through a powerful song. I got to learn both about a very prominent figure in America's history and the country as it broke away from England.
Hamilton coming to Omaha was a very big deal for the community. When I got downtown, there was a sea of cars that were battling over parking spots. Enormous crowds of people waited outside the theater, and when the doors finally opened they flooded the Orpheum Theater in order to see this spectacular show. I get season tickets to the productions at the Orpheum, and I have never seen a show this packed there before. It is no surprise that everyone was so eager to see the sensation with it earning a whopping 11 Tony Awards. The musical has gained a very large fan base that spans across America. Adults and teenagers alike have both fallen in love with the show. The fans include popular celebrities such as Jimmy Fallon and even Barack Obama. With such a big reputation, Hamilton was sure to draw in many people to Downtown Omaha to watch the excitement.
Overall, I thought this show was a work of pure brilliance that no other musical could ever replicate. The way that the writer and composer, Lin Maneul Miranda, has taken a piece of history and turned it into a hip-hop and rap based musical is inspiring. Also, the talent in every cast member is unmatched. The sounds of their perfect harmonies and vocals filled the theater with a beautiful sound. Through song, the actors took the audience through an emotional rollercoaster. I don't think I saw one dry eye when the show was over. Also, many of the songs contrasted each other in the composition of the music. For example, Alexander Hamilton raps most of his songs to show that his thinking was ahead of his time whereas Thomas Jefferson has very jazzy numbers because he has been away in France, not paying attention to the innovative thinking in America. What one man has taken with music and combined with American history has completely changed how people view theatre.
Another positive to the musical is how diverse the show is. Almost every member of the cast is from a minority group. This is something that is not found in most Broadway musicals or how I usually picture the founding fathers to look. The color-blind casting reinstates the idea that it is all races and genders who make up America; not just old white guys with powdered wigs.
The only downside to seeing Hamilton is the very expensive price. Tickets for the shows in Omaha range from about $200-$427, depending on the show date and the availability of tickets. It is a very high price for simply going to see a musical. However, there are certain ways that the production tries to make them more affordable. For example, there is a HAM4HAM lottery in which $10 tickets can be won for every show. I think that the company is doing their best to get more people in to see this fantastic show which is something that not many others do. I believe that despite tickets being pricey, it still does not take away from the experience.
Seeing this show has not only deepened my appreciation for what theatre has the power to do, but it has also made me more aware of what and who founded this country. As an AP United States History student, I greatly appreciated getting to see this critical time in our past unfold right before my eyes. It helped to present the founding fathers in a new light that's been unseen anywhere else. Also, the use of music takes the audience on an emotional journey throughout the two and a half hours of the musical. For anyone who has the opportunity to see this show whether in Omaha or anywhere else, I would highly recommend it. There's nothing else that could ever compare to it.
About the Contributor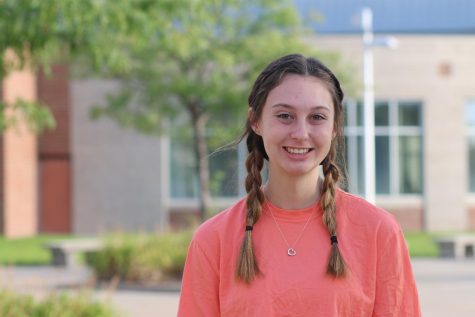 Anna Blumenthal, Staff Reporter
Anna is a junior and this is her first year on the Advanced Journalism staff. Her favorite articles to write are Opinion and Entertainment stories. She...