Tackling A Big Art Project
Senior creates a mural that will last a lifetime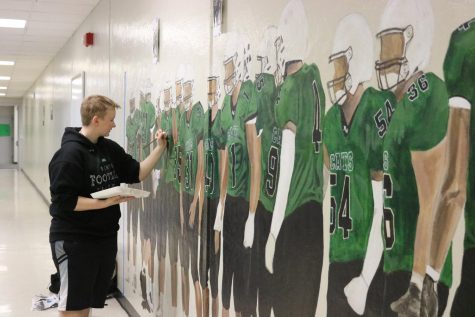 Paint brushes and tubes of paint scattered the floor. A steady hand painted clean lines on the white barren wall. Senior Adrian Judson stepped back and admired his work, hours of hard work finally paid off.
Ever since seventh grade, Judson has had a passion for realism art. After coming to Millard West, he took countless classes where his art skills grew, especially Advanced Studio Art. In this class, Judson began to create work that was focused on sports teams. His creations were displayed in the green mile hallway and many people around the school began to admire them.
"I've always strived to get people to notice my art because I want to get some sort of recognition for all the hard work I put in," Judson said. "You can get recognition for sports when you win but nobody really notices art until you actually put in front of them.
In January, the nurse suggested to Judson that he should do a mural somewhere in school. He then became obsessed with the idea and wanted to act on it. Judson decided to take it to the administration to get approval and figure where the best place would be.
"I came up with three or four ideas the night after I asked Mr. Smith about it," Judson said. "I then emailed him my ideas and we talked what the official painting would be."
After waiting for two weeks, the mural was approved. In the days following, the real planning process got started. The location was one of the most important decisions to make because neither Judson nor the administration wanted the mural to get damaged in the coming years.  
"We decided on the weight room hallway because it doesn't get a lot of traffic besides the athletes working out," activities director Lance Smith said. "There's also a lot of room there to expand the mural by adding a girls team or Unified team."
The mural highlights the varsity football team. Judson felt it was one of the most popular sports at Millard West. He also had fallen in love with Friday nights during his freshman year and wanted to leave behind that love after graduating. It's at football games where Judson met most of his friends and really broke out of his shell.
"Having something to root for was something I never really had before and feeling like you're apart of something bigger, even if you're just watching a game, is incredible," Judson said. "At football games I liked watching how the players plays together and how they work as a team even though there are so many of them."
The first step in creating the mural was getting a reference photo of the team. Judson then created a print that he would later trace onto a transparent paper so he could project it onto the wall. He then taped off the area where the mural would be. The painting would consist of 17 players from the kickoff and defensive line.
"I started with watered down black paint to create a sort of sketch," Judson said. "I then blocked in the colors which really made it look more real after only working on it for just a day."
During third block and after school, Judson continued to add details to the jerseys and helmets. Judson wanted to create a legacy that many will remember in the years to come.
"That was the main thing I really wanted when I thought of a mural was that it would be mine to be left behind," Judson said. "I feel like Millard West has been the place where I've really become myself and leaving something behind this big is incredible."
Judson also wanted the mural to be a memento for the 2019 graduating seniors who were a part of the team this past year. He also hoped in the future it would become a gathering place for sports teams to get pumped up before games or practices. Judson's art teacher Jennifer Hoss-Miller hopes this kind of mural will be the first of many to be created in the halls of Millard West.
"I wish there were more murals like Adrian's around the school on the white walls showing actual students at the school," Hoss-Miller said. "This mural represents the team and it would be cool to see this sort of stuff for every department."
He hopes to have the mural completed before he graduates in the spring. Although, Judson is leaving the halls of Millard West his legacy will live on.  
About the Contributor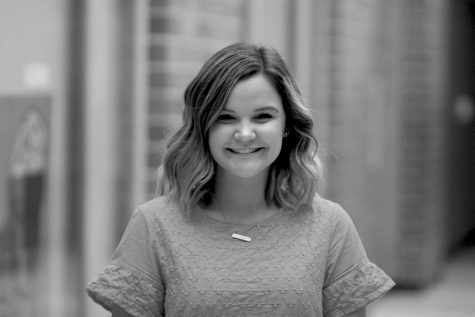 Sydney Looney, Editor-in-Chief
Sydney is a senior and this is her second year being apart of the CATalyst and MWHS Wildcats News staff. Her favorite part of journalism is getting to...