Artist Spotlight: Marina
Marina is back and better than ever after a three year break in music
Marina Lambrini Diamandis, known alone as Marina and by her previous stage name Marina and the Diamonds, is a Welsh singer and songwriter whose career began in 2009.
Her career took off when she placed second in the BBC's Sound of 2010, and since has been a sensation. She refers to her personal style as an indie artist with pop goals, this artist has a variety of types of songs in her collection. From first studio album Family Jewels show cased the iconic Marina's vocals, style and power that all of her fans have come to know as Marina.
Her second studio album Electra Heart;  a concept album about a seeming heartless woman who plays with mens hearts and cannot commit to anyone, to her third studio album Froot; an a complete shift in emotion, beat and vocals. Her third album is more emotional containing songs like, "I'm a Ruin," "Blue" and "Happy." Those song titles alone show the tone shift from on top of the world to the rock bottom.
In the past few recent years Marina has been silent. The last three years of her music has been non-existent after she decided to take a break, which at the time, was a maybe definitely.
With her comeback to Twitter, she announced a name change. Marina and the Diamonds is no more, now only known as Marina. Some fans were shocked to hear their long listened to artist had changed her name. She came out to talk about the issue stating that it just felt right, and let them know she still kept a few diamonds in her logo for old times sake.
How to be a Heartbreaker
From her album, Electra Heart, "Primadona" beings with Marina singing in her falsetto. In this particular song, Marina sings "I know I've got a big ego, I really don't know why it's such a big deal though." This singular lyric captures the primadona life style the woman in this song identifies with. In Primadona, Marina sounds innocent, but has a hint of devilish weight to her lyrics. An absolute perfect anthem for empowering women.
One of her most popular songs from her album Electra Heart, "How to be a Heartbreaker," beings with a strong guitar and her lyrics; a list of rules. While that may sound strange, her rules preach of a ways to pull a man in then drop him without being hurt. While the idea of the song sounds straight up rude, she later in the song explains that, "Girls, we do, whatever it will take. 'Cause girls don't want, we don't want our hearts to break, in two. So it's better to be fake, can't risk losing in love again, ba-abe." This song has a very upbeat tempo, and classic Marina vocals. Strong, confident and beautiful.
"I found what I'd been looking for in myself, found a life worth living for someone else, never thought that I could be, happy." Marina begins this slow heartfelt ballad of love with only her voice. Soft and melodic, it captures listeners, not only with her vocals but with the soulful tone. "Happy" from her third studio album Froot, echoes hope for lonely souls searching for their other half. She brings the word divinity into this song and although she has used it before in her music, here she applies it to a bigger being like God. In her other uses she has referred to herself as divine. This shows a completely different side of the artist. From calling herself a god to needing reassurance from something bigger is a huge change in state of mind and confidence loss. This song radiates the change in the artist as she was losing herself and may explain a reason she left the spotlight of music for awhile; to find herself again.
The most recent release, "Handmade Heaven," spells a new future for the talented Marina Diamandis. "But in this handmade heaven; I come alive." While this song is still identifiable as Marina, it sounds like a mix of Electra Heart beat with the soulful tone of Froot. While this is only a single, it brings a new excitement for this album to be released. On twitter, Marina explains her newest release. "The song is about a connection with people who are on the same wavelength as you – and how special that feels when that happens." Rarely do artists tell you the meaning of their music. It leaves it to interpretation but when they do it means they have a special message. Hers is connection.
Marina is an inspiration with an amazing voice that captures the pop star look she goes for. She has made it to fame, her goal of divinity from "Immortal" in  Froot, where she seeks fame to be remembered by fans forever. While that sounds self-absorbed, it really is a goal few reach. Marina will forever be remembered as her legacy grows.
About the Writer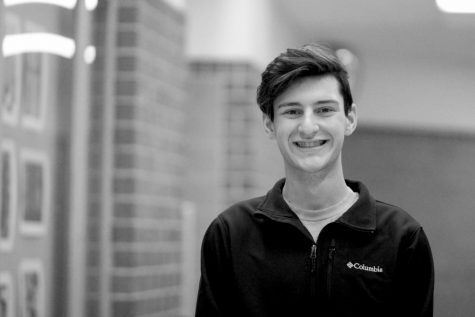 Trevor Lueck, Staff Writer
Trevor is kicking off his third year in journalism as a senior. In his last year, he enjoyed writing columns, hard news, entertainment reviews and producing...