A journey to becoming cancer free
Joselyn Miklas's road to recovery as she fights Stage II Hodgkin's Lymphoma
Hang on for a minute...we're trying to find some more stories you might like.
High school has been known to usher students from adolescence into adulthood by presenting new obstacles and acting as a platform for students to grow into themselves and therefore into their future. Demanding stress is a constant factor that plagues the halls as students worry about the little things too often. For one student, high school has altered into a whole new ballgame where the little things seemed to have washed away and the threat of life has become her main priority.
This September, junior Joselyn Miklas was diagnosed with Stage II Hodgkin's Lymphoma. From the day of her diagnosis, Miklas's life has turned into a path of hurdles in which she has had to find new ways to obtain her health and overall survive.
"I'm not exactly sure when the cells started to rapidly multiply, but I had noticed a lump on the right side of my neck in July." Miklas said. "Out of fear I didn't say anything and I hoped it would just go away over time. It was then a few weeks later with no change that I finally went to my mom and we went to get it checked. We just thought it was a virus, we never expected what came next."
Miklas had been prescribed an antibiotic, but still the lump remained and as the days passed she began feeling worse and worse. Finally, an ultrasound took place which showed two other lumps. The very next day once arriving in the emergency room a biopsy was performed where one of Miklas's lymph nodes was taken out and tested for cancer. Miklas and her mother waited until the results came back, and their worst nightmare had become a reality.
Her tests had finally revealed that she had Stage II intermediate risk Hodgkin's Lymphoma. Miklas was finally diagnosed with cancer.
"To see Joselyn's first take of reality, the first time in the Oncologist office when we were told she had Hodgkin's Lymphoma was the toughest thing I have had to deal with as a parent," mother Chris Miklas said. "She was realizing even more that she had cancer, and we both cried together. After her first round of chemo, almost all of her hair fell out, in one day. Joselyn tried to be strong, but I noticed the tears in her eyes. Her breakdown came later that night."
The new experience of chemotherapy had completely changed the course of Miklas's life as it had felt as she hit rock bottom, but luckily she had great support to get her through each day.
"As dumb as it sounds, losing my hair really broke me," Miklas said. "I still can't get past the self-doubt. I was once so confident and now loving everything about myself is something hard to accomplish. I tried telling myself it wasn't a big deal, it is just hair overall. But as the final inch was shaved off, I was traumatized. I had been growing my hair out for seven years. It seemed like I was losing everything I cared about. My health. My social life. Now my hair."
Miklas spent most of her days within the hospital or at home. She could no longer do things she loved such as partying with her friends and even seeing people at school. Being isolated with the constant fight against cancer led to a lot of doubt and even the temptation to quit at times.
"There have been many times where I had gone to the ER crying in so much pain," Miklas said. "I turned to my mom and said 'Just pull the plug I can't do this anymore,' After seeing the pain my mother had to go through to stay strong for me and help me keep going, I knew I had to stay strong, not only for myself but for the people I love."
Chemo had brought many physical challenges. Sores started to form in Miklas's mouth, which led to dehydration as the pain was too overwhelming to even swallow. Fevers were also a common side effect, along with fatigue.
"She had been vomiting constantly due to the mass amounts of pain medication and chemo," Chris said. "She could hardly walk, head drooping from the weakness, and she couldn't take anything orally without it coming right back up. It broke my heart. I wondered if my little girl was going to make it."
After 49 long days, seven hard weeks, and 1,176 stressful hours, the glowing color on the scans, which once indicated the buildup of cancer cells, had disappeared. The chemotherapy had begun to work, and Joseyln Miklas was days away from being cancer free.
"Even though I am almost cancer free, I haven't felt much of a physical effect yet, but it is like weights have been lifted off my shoulders," Miklas said. "I feel free to live my days to the fullest and I know that no matter what I am strong enough to face anything that is thrown at me. I want everyone to know that they should never take anything for granted, life is short don't dwell on the little things. Live your life and don't look back,"
Miklas fought a battle little have faced and is close enough to almost taste victory. She continues now to recover and plans to become a psychologist to help kids just like her so in order to make their lives happy as her nurses did for her.  Even through the weeks of constant doctor visits, the isolation, the pain, Joselyn Miklas will come out a winner and rid of her Stage II Hodgkin's Lymphoma.

About the Writer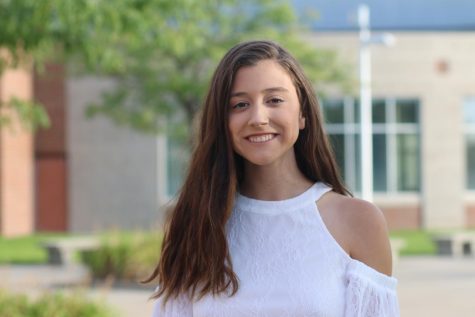 Bailey Christensen, Assistant Broadcast Editor
With her second year on staff, Bailey takes on her senior year representing the Millard West Catalyst and MWHS Wildcat News. She enjoys playing lacrosse,...