A Chance at a Dream
Freshman makes the highest level cheer team
Hang on for a minute...we're trying to find some more stories you might like.
The lights are flashing as you step on the stage. All your teammates jump up and down to get a feel for the floor. You look around and see your friends, family and coaches yelling for your team. Nerves are at an all-time high. The music starts and you perform skill after skill perfectly as the crowd screams. Tumbling and stunts fly across the air. Your body hurts, but you have to keep pushing until the end. Everything hits flawlessly.
All-star cheerleading is a high-caliber, dangerous sport, especially when it's one of the highest levels. Freshman Sophia Vasquez made a level five cheer team this past summer at Cheer Xpress in Lincoln, and has recently started performing her routine at a showcase and her first competition.
Vasquez began cheering at Airborne Academy in Omaha, Nebraska, when she was 11 years old. She had participated in gymnastics for about four years before, but decided she wanted a change. With her gymnast background, Vasquez already knew how to do the tumbling skills needed for her team. Although it may not seem like it, cheer is much different them gymnastics. Lifting and throwing people in the air, stunting, is a very difficult skill for new cheerleaders to learn. Many aspects of cheer were new to her, and she had to learn how to do all the jumps as well as how to fly and base in stunts pretty quickly.
"The hardest part was probably learning all the different names for skills that were different in gymnastics and learning how to stunt," Vasquez said, "The grips on the flyers' feet were hard to learn for some stunting skills, and flying was hard because I had to learn how be up in the air and balance my weight on both sides."
Vasquez started on level three, but advanced quickly. Even though she had higher level skills, she remained on level three for the three years while at Airborne. She was close to getting a double full, which is a backwards flip with two twists, and excelled in basing new stunting skills. Halfway through last year, she decided she wanted more. Vasquez's old gym did not offer the higher level to match her skills.
She had to look elsewhere.
Vasquez's close friends had already decided to move to Cheer Xpress for similar reasons. That gym offered the higher level, so she decided to go there with them. She began participating in tumbling classes at this new gym and attended tryouts in May 2018.
During the tryout process, Vasquez was put in the highest group, level five. After practicing with this group for two weeks, she was placed on Coex, the extra small coed level five team. This meant that she has the chance to go to the World Championships in 2019, if her team gets an invite. The Cheerleading World Championships is the biggest event in the all-star cheer world. Teams from across the nation and world compete at the highest level. For many cheerleaders, this competition is only a dream, but it could soon become a reality for Vasquez.
"When I made a Worlds team, I was super excited that, now, I can actually use my skills," Vasquez said, "And to have the possibility to compete at Worlds is crazy to think about because I never thought I would actually have a chance to even go to Worlds."
Being on a Worlds team takes a lot of time. Vasquez's team, Coex, practices three times a week for two hours each. On top of this, there are competitions on many weekends from November to May. For Vasquez, even more time is spent on cheer.
Cheer Xpress is located in Lincoln, an hour drive from where she lives, and for many practices, she is in Lincoln from 5 p.m. to 10:30 p.m.. Vasquez also does a private lesson on Saturdays. Essentially, she spends seven hours a week at practice along with the commute there and back. Balancing school work with this can be very challenging.
"When I get home after school I do my homework so I don't have to worry about it while I'm at cheer," Vasquez said. "Yes, sometimes it is difficult to to my homework right away because I tend to forget about it, so I don't do it. Then, I am staying up late doing it after cheer is done."
Since making a Worlds team, Vasquez has thrived. She got her double and has grown a lot in her basing skills. Her team, Coex, had an amazing showcase performance. They received first place and the Creativity Award at their first competition. Coex has even started adding upgrades to their routine since then. She is finally able to use her highest skills in a routine.
Vasquez's family thinks making a Worlds team has been very good for her.
"I think Sophia has adjusted very well to Cheer Xpress," Vasquez's mom Alicia said. "She was more than ready to go to the next level of cheer and is super excited about the possibility of going to Worlds. She has told me that she likes being able to do all her skills for tumbling and not being held back."
Throughout the season, Vasquez and her team will get a shot at a Worlds bid. Any team that gets to compete at the World championships is extremely lucky. It is Vasquez's dream to go there and place well. Many people's dreams are far-fetched and out of reach. This is not the case for Vasquez. She has the opportunity to make her dream a reality. Hopefully, it comes true.

About the Writer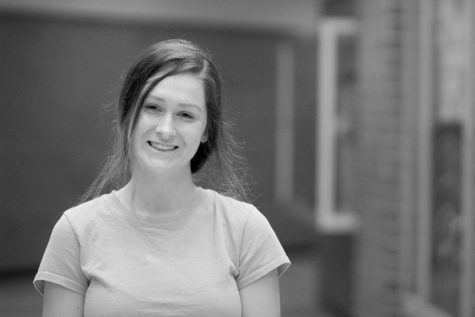 Elizabeth Hahn, Staff Writer
Ellie is a junior in her first year of writing for the CATalyst. She loves to write news and opinion stories. Outside of school, she is involved in all-star...