Artist Spotlight: Conan Gray
Conan Gray.
He's an authentic artist who releases music unlike others around him. This 19-year-old San Diego native and current attendee of UCLA, is best known for his YouTube Channel, Conan Gray. On his Channel he regularly uploads vlogs, original songs and covers from other artists. From 2013 to the present day 2018, Gray has gained 963,000 subscribers and will be one to remember.
Gray just announced his debut EP Sunset Season featuring four studio singles, two of which were just released, "Generation Why" and "Crush Culture." Conan has a style very different from most artists around his age. He sticks to the slow alternative style sometimes sounding like a time capsule drawing from 80's synth pop, while going against the party, drinking-based lyrics that most young artists find cool.
"This town will never change, people come and go it's all the same," Conan gray has mastered the smooth relaxing alt pop in the song "Idle Town." "Idle Town" was released in 2017, being his first single and an instant hit with fans. "Idle Town" is eating ice-cream at the park at 3:00 a.m., driving around aimlessly just to fill the time and waking up early to watch the sunrise over the lake. Gray captures the small town life perfectly. This song sounds light-hearted until delving into the lyrics.
His own nostalgia is captured in the chorus. The bridge between the chorus uses these lyrics, "And they watched the sunrise. Blinking out of red eyes, and sore minds. The airplanes keep flying by, and they cry. 'Cause they've never even touched the sky." This lyric hits home for Gray. When writing this song, he was set to leave for college in two months and from his small town, he wanted a goodbye. A somewhat thank you for the town and its people who molded him into who he is. This song was his thank you. "Yeah I think that we'll all be okay. The idle town will stay as it stays. And everyone I love's in this place. So curfew's at midnight."
Next in the queue, "Generation Why." It begins with Gray repeating the title as it fades into a deep beat that builds. Conan is exceptional at using a strong beat to frame a song and using lyrics to enhance. This entire song is a play on Generation Y changed to "Generation Why." He talks about how every generation before thinks that Generation Y is lazy, selfish and helpless. He capitalizes on those flaws and kind of throws it back at the other generations who raised the newer kids. Conan makes this song very funny with the lyrics he incorporates. "'Cause we are the helpless, selfish, one of a kind. Millennium kids, that all wanna die"
For the last song in this spotlight, "Crush Culture." This song goes in depth about how young adults nowadays are unable to find relationships that mean anything. People move from one to the next without a second thought. He uses the phrase "spill my guts out" when he talks about how everyone is crushing. He clearly shows his disgust with people playing with others emotions. "Crush Culture" has a nice beat and easy to sing-along-to lyrics which will make it a hit with listeners.
Conan Gray is the artist to watch. He uses relatable lyrics to draw parallels with fans and with his many songs and music videos all produced and written by himself and friends, he showcases his raw talent. He will be big and I'd keep my eye out for him if I were you.
About the Contributor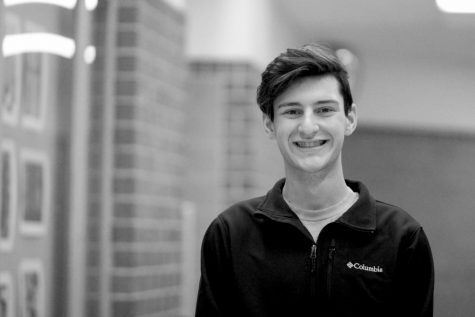 Trevor Lueck, Staff Writer
Trevor is kicking off his third year in journalism as a senior. In his last year, he enjoyed writing columns, hard news, entertainment reviews and producing...