The view of student workers
Why people enjoy Village Inn
Hang on for a minute...we're trying to find some more stories you might like.
Throughout the month of September, Village Inn is celebrating 60 years since they opened in 1958. The first Village Inn opened in Denver, Colorado and the franchise is now open in more than 200 locations across the country. Village Inn is an institution for good food and is especially known for their pie. Their most famous pie that is sold is the French Silk but every season they have a new feature pie that is available.
Village Inn is a place for teenagers and students to come and enjoy the company of their friends that they are with and to enjoy either the food or the award-winning pie. Students love to come before or after dances after they have worked up an appetite for world famous food and pie. People also come after football games to share the victory or loss. Even if it is just a normal day they like to come and hang out with each other or sometimes people like to come to have a quiet place to do homework. Student workers are a big part at Village Inn. Most of the hosts are students that attend Millard West High School.
Village Inn is a popular place for people to work because of the friendly environment that is presented. Other fellow Wildcats work here as well because they enjoy the food. The people that come in always say how nice and wonderful the server was and that the service was fast.
"I chose to work at Village Inn because of my friends that work there and I love the food as well," Senior Samantha Benak said. "I have always had good customer service here whenever I go to eat."
Everyone that works at Village Inn gets along with each other and it just feels like family. Village Inn is a great place to work as well because you connect with everyone easily and they are all very pleasant to work with. When they work with the people that also goes to school with you, it helps them get closer to that fellow student.
"I enjoy working at Village Inn because of the friendly co workers and everyone likes to have fun and mess around some days," Benak said.
Sometimes having a job can be a struggle when it comes to keeping up with school work. It can get overwhelming because it may seem like there is not any time for work and homework. They have to find time to do both and usually that can mean staying up late after the shift is over to get everything done.
"They give us enough time before work to get homework done before we have to work," Benak said.
Village Inn is a family friendly place and people come to enjoy the service that is provided and to enjoy delicious food that they have. Having a job and trying to keep up with school can be a challenge but it is an enjoyable experience that is easy to handle.

About the Writer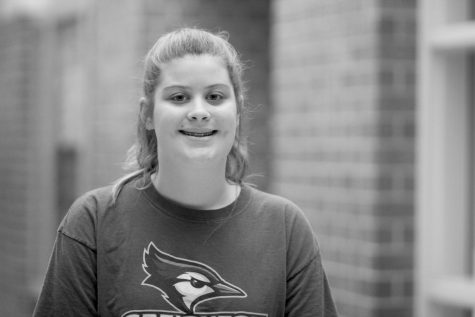 Genna Platte, Staff Writer
Genna is a senior and this is her first year in Advanced Journalism. She is graduating in December and going to school to major in Journalism. She enjoys...