South Steals One From West in High Scoring Affair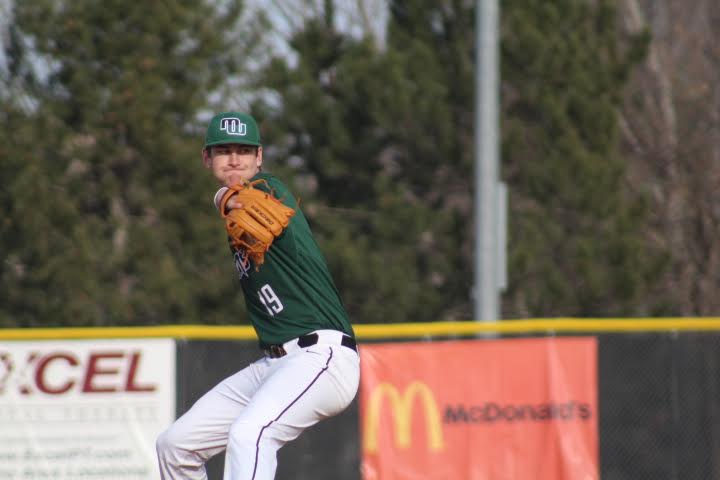 The top ranked Patriots beat third ranked Millard West on the road in the Battle of Q Street 6-4. Millard South was able to sneak past with some major help from their bullpen in a back in forth game.
After no runs were scored in the first inning, both teams came alive offensively in the second frame. The first Patriot run came across after sophomore Drew Wessel reached on an error. Later in the inning, senior Drew Gilin hit a two run single to give Millard South a 3-0 lead.
In the bottom half after two quick outs on two pitches things started to unravel for Patriot senior Dylan Guinzy. The Wildcats would get five straight two out hits and seniors Dawson Beutler and Tyler Bandiera each had RBI singles cutting the lead to 3-2. Next up, junior Garrett Kennedy hit a double plating one more run and tying up the game at three.
The third inning would end up being scoreless, but South would break the tie a senior Dylan Wagner hit a RBI groundout pushing Wessel across and giving the Patriots a one run lead. In the home half of the third senior Paul Hinton scored on a passed ball to even the game.
The defining moment of the game happened in the top of the top of the sixth when Gilin crushed a two run homer to give the Patriots a two run advantage that they would not relinquish.
Both starters in the game had dominant moments but also faltered. Guinzy was rolling after setting down the first five Wildcats in order but gave up five hits and a walk after that and exited with two innings pitched, one strikeout and three runs allowed.
Senior Colby Gomes pitched four innings with five hits, three walks and five players put down on strikes. While four runs came across on his watch there were multiple errors meaning not all were earned.
After Guinzy was pulled after two the Patriots came back with senior Andrew Staebel who after a shaky start came through. In his first frame he allowed the first two batters he faced to reach and allowed one run came across. After those jitters, he settled in after racking up six strikeouts in four innings while only allowing five total base runners. He also picked up the win for the Patriots while Guinzy got a no decision.
After Gomez was pulled the Wildcats turned to senior Brock Burling who pitched three innings and only gave up three baserunners, but was on the hook for the loss after allowing a full count two run homer to Gilin.
Gilin went 2-2 with two walks and four RBIs and was the catalyst for the offense. Millard West will hope to rebound Saturday against Lincoln North Star as they fell to 4-2 with the loss while Millard South remains undefeated. The Wildcats next home game will be senior night for West on Monday, April 2nd against Skutt Catholic. Millard West will get another chance at South when they play in the Millard South invitational starting on April 26th.