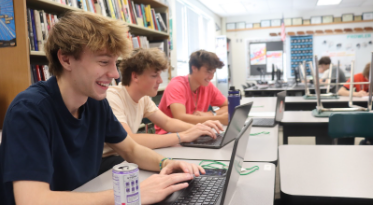 Every year, no matter the size, changes make their way into the halls of the high school. This year, although seemingly predictable, might be the most ambitious change of them all: a new schedule.
Since opening in 1995, Millard West has had the 4×4 block schedule, one that was both unique to Millard and the Omaha metro. But with the 2023-2024 school year, we have seamed into the so-called "modified block" scheduling. 
This year, instead of having the same four classes every day for a semester, students alternate between eight different classes dispersed between odd, even and all days with four classes alternating Monday through Thursday and all eight on Friday..
"Since 2018 while looking through data, the school's needs have changed," principal Dr. Greg Tiemann said. "It was a three year process and we looked at the problems and opportunities, as well as what other schools were doing. I looked at what the school values and decided to update our schedule."
Although the change seemed unfamiliar and odd to the current staff and students, that's not to say everyone has the same experience. It is no surprise new peers walk in the door at the beginning of every school year. Whether it is an incoming freshman or transfer students, they can be more familiar with the new schedule than others.
"The new schedule has made my transfer from Millard South more comfortable than expected," junior Alyse Aschebrook said. "Since my freshman year I have liked the modified scheduling because it allows me to get more homework done because I don't have the same classes every day."
In order to gradually adapt, advisors and staff still managed to hold onto certain aspects of last year's school year to make the switch simple and effective.
"I will always love block scheduling," Spanish teacher Madeline Sossi-Jones said. "It is what I learned to teach and I think it has so many benefits. I originally did not like Flex Time when we started, but this year I have found it to be very helpful and when I do not have kids coming in, I have an extra moment to get myself organized."

With the change comes opportunities for knowledge and growth with everyone in the school, and regardless of what staff and students think, the new schedule is here to stay.