Empfang bis Amerika
German students arrive in Omaha for two weeks of fun activities that represent our culture
On April 13, German Exchange students landed in Omaha, Nebraska, for the first time in three years and were very excited to learn more about American culture. Twenty three students and two teachers were assigned to stay with Millard West host families, and would spend the next two weeks attending classes, sightseeing and bonding with each other by doing many activities.
Each hostess had to fill out a form and write a paragraph explaining why they wanted to have a chance to host a German. This form mostly had questions about their interests, likes and dislikes. These questions were used to help the students find the right match and to connect with each other. Students who were picked then had the chance to connect via Zoom calls.
 "We sat on a Zoom call for hours together," senior Cecilia Beckerbaur said. "Zoom was a great way of talking and connecting with each other."
By using Zoom to call each other, they got to understand different things they liked and things they had in common. 
Throughout the 14 days they were in Nebraska, they had the opportunity to visit many different places such as the Nebraska Furniture Mart where they explored and looked at the vast variety of furniture, the Henry Doorly Zoo to see all the different exhibits like the penguins in the aquarium, the monkeys and the elephants. They also went to the Carol Holling camp to participate in activities like the zipline and high ropes and they went to the Husker stadium.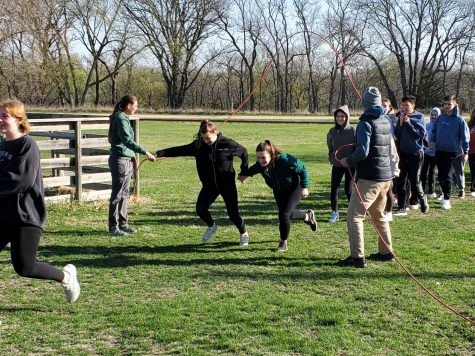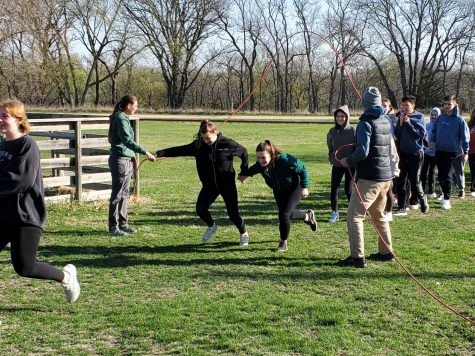 "It showed the large variety of manufacturing in America," German teacher Andrea Turner said. "The football stadium was an interesting part of Nebraska because it shows where the Huskers play, and Germany doesn't have big stadiums like this in Germany."
In the past, Turner has participated in a total of five German exchanges. Three of them were with Millard West, and this year will be her fifth time participating in the German exchange students program. They played basketball, and even went out to some fast food places such as Mcdonalds.
On the morning of Thursday, April 27, the German Exchange Students headed to the airport to make the nine hour and 47 minute minute trip home. After two weeks together,  it was hard to say goodbye.
"When you live with someone you see another side of a person," junior Grant Rohrbaugh said. "It was really hard saying goodbye after becoming good friends with them in that short amount of time." 
The students who participated in the German exchange program will have the opportunity to see them again from June 10-27 when they go to Germany to experience their culture.