2,000 miles for hockey
Student from Alaska temporarily moves to Nebraska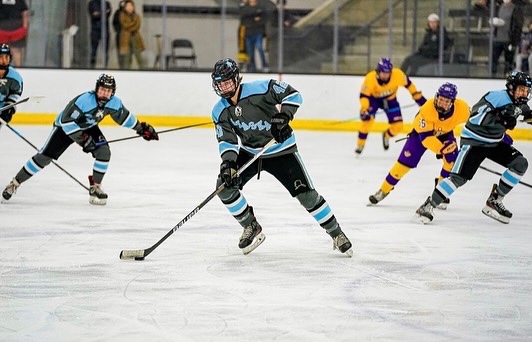 The Millard West hockey team is about a month deep into the season. All the players are working on honing their skills so they can play the best they can. However, this year the team has some extra help, as a student has moved from Alaska to play hockey this year.
Biology teacher Kristen Holzer was approached by the hockey coach if she wanted to house sophomore Burke Newton. Holzer was more than happy to help with the housing process and knows that he will succeed this year.
"We moved our older son to college and had an extra room available and wanted to help out with this process," Holzer said. "We did a Zoom call with his parents and then had a Zoom meeting with the Omaha Mastery organization about billeting."
Newton is more than ready to play throughout the whole school year, as the hockey season started in mid-August and will end in March. Newton plans on staying for the whole school year, and will decide if he wants to stay or possibly go to another school later in the year.
"In Alaska, the team fell apart, and I wanted to get out," Newton said. "Leaving was the only way to move on. Five kids also moved out, kind of forcing me to move out for better opportunities. If I can, I would want to come back."
Currently, Newton and the rest of the hockey team are killing it, with a 9-0 record so far. The hockey season ends in March, meaning that there's still a lot of time for the team to work on what they know, and to stay strong.
"It's hard being away from home, but nothing super difficult," Newton said. "I can always facetime my parents, and I do it every night. My brother is also away for hockey at another school so we all keep in touch with each other."
It's not always easy having a teenager so far away from home, especially for Newton's parents. It was the entire family's idea to have Newton move to Omaha for the year, but it doesn't come without some sacrifices.
"It is definitely tough everyday to miss his smile, hugs and just having him home with us," mother Erin Newton said. "The Holzer's were kind enough to offer to host Burke this year.  I think Burke's Coach thought it would be a good fit and so far it has been an amazing fit for Burke. I hope he continues to be a good fit in their home."
There's still a lot of competition left for Newton and the rest of the hockey team. If they can stay at this level of consistency the whole season, they could be one of the best teams in the state, if not, the country. All the while Newton keeps his family in mind.