Champion High Flyer
Senior has a stunning victory at volleyball Nationals
On July 7 in Las Vegas the junior boy's volleyball club, High Flyers, had a well-earned victory at the 2022 Boys Junior National Championship (BJNC). Senior Cameron Daniels was part of this team as number 3 and a setter.
Being the only boys' volleyball club in the state, the High Flyers had a lot of pressure before Nationals. The team had many tournaments leading up to their championship game. Practice paid off because after winning ten matches in four days, the High Flyers became National Champions.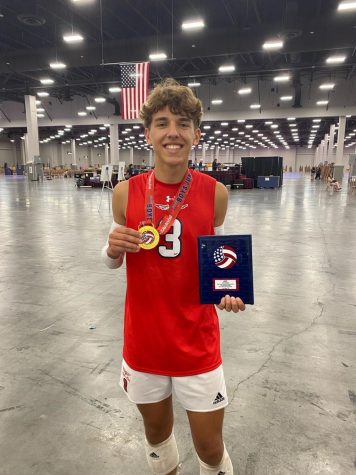 "We had at most three games every day over the course of four days," Daniels said. "We played 11 games in all and went 10-1 over the week. During the start, I knew that we would have a good chance of making it to the gold bracket but I never really thought about the winning part. My mentality during tournaments is one game at a time and I try to focus on the game that I have in front of me rather than the game that could happen in a couple of days. The first time I thought about winning the whole tournament was when we made it to the gold bracket. When I realized that we could win it all was after the first game of the gold bracket because we played really well in that game and everything was clicking for us."
Being the thing that the High Flyers worked for the whole season, this game was very nerve-racking for the players. Losing only one game had a high toll on the team and Daniels. The stakes were high and he knew it.
"We did have some hard spots during the tournament like when we lost our only game to a team that we could have beaten," Daniels said. "Also we ended up going three in the championship game which was very nerve-racking. To me, every game we won was a small victory because every game matters at nationals. You could be undefeated but then go into your challenge match and not win and the whole tournament is ruined for you and your team. Good thing that we won our challenge match."
Daniels and the rest of the High Flyers made KETV with their stunning performance at Nationals. Not only did they make the news, but the joy of their win was also spread across social media.
"It was definitely cool to just go on Twitter and Instagram and see posts and videos that his team won Nationals," senior Alanna Bankston said.
Whether it was on Instagram, Facebook, or Twitter, it was still a proud moment for Daniels and the rest of the High Flyers. The volleyball players at Millard West recognized this knowing that their friend and peer had won Nationals.
"I think he was a great leader because he was their setter, so he was like the quarterback of the team," junior Lauren Jones said. "I did watch the game on Facebook live, and they were down 13 to 5 in the second set and he came back, setting the entire time."
After winning, Nationals Daniels returned to Millard West to continue his assistant coaching for our volleyball players. He simply helps with line-checking or taking scores for the team. He can connect with the players differently than the other coaches. His win helps his experience shine through to the other players.
"I feel like I can just easily connect with them on a different level because I know what they go through with volleyball," Daniels said. "I go through the same thing when I play." 
Daniels will continue to motivate and inspire the volleyball players at Millard West with his assistant coaching. Being a role model and inspiration for the players is an important feature as West's volleyball season begins.