They're creepy and they're kooky
Animated spooky family sequel, "The Addams Family 2" premieres just in time for the Halloween season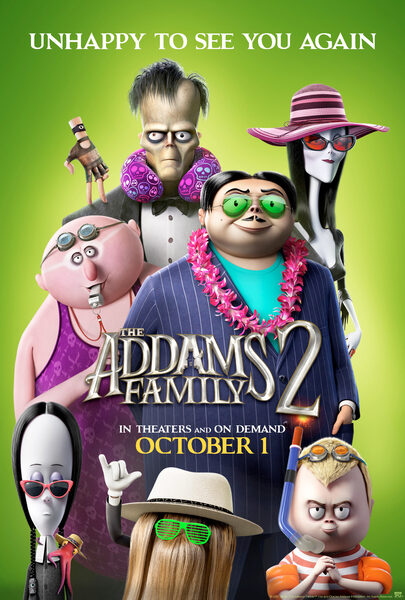 Getting into the Halloween spirit is always a huge part of the fall season. With the help of pumpkin spice, the changing color of leaves and new spooky movies, "The Addams Family 2" fit right in. 
With the release date of Oct. 1, 2021, it is currently sitting in box office at $48.9 million in less than a month whereas the first "Addams Family" was $35 million in the first month. The series was made two years apart, so there are big changes and minimal changes between the two. There are changes in the outfits the characters wear and the house they are living in has developed a little. Wednesday's hair has changed, Thing (the hand) had a "glove" that he wore while driving. 
In the second movie, Wednesday Addams was invited to her school's science fair where her experiment was mixing DNA of an incredibly intelligent octopus with a not so intelligent human. Wednesday sees the other kids' projects and thinks they are lame and has won this science fair very easily, but when it's time for the awards everyone is crowned a winner. Wednesday was very upset with this idea of not winning and not having a sole loser. Later in the evening, she doesn't go down to eat dinner with her family and that leaves her parents, Morticia and Gomez, concerned.
Her parents decide that a family vacation across the country is the only answer. Before leaving for their adventure, a strange man approaches them and states that a girl named Wednesday Addmas was switched at birth. Morticia and Gomez laugh off this man, thinking their daughter is playing a prank on them, and go about their vacation. Unfortunately, the man follows them and tries to stop them. Gomez and Morticia try to avoid him as much as possible to not let Wednesday know something is wrong, which only leads to her being more upset.
This movie is listed as a comedy/adventure and it sure is one. As we go on this adventure with this family, there are subtle jokes put in that reach all audiences, especially adults and teens. There are many people who believe this is a kids movie, but it is just as much of an adult movie. There are several popular actors such as Chloë Grace Moretz as Wednesday Addams, Snoop Dogg as Cousin It, and Wallace Shawn as Mr. Mustela.
 Along with the wide audience the film reaches, it has a great cinematic presence. The effects and color the design team used really stand out. All of the colors that were incorporated throughout the movie to add focus of the viewers eyes to special scenes was truly incredible. All the attention to the little details in each scene were very meticulous and executed well. The design team did an excellent job of capturing each of the characters' own personality and clothing details but still found a way to connect all the characters visually.
Overall, this was a very fun, charming and well-polished movie that I would highly recommend for any family night or if you are just wanting a good hearted laugh. This movie is currently still in theatres, available on Amazon Prime Video, Fandango and Peacock and will be on DVD soon.