New opportunities in STEM
Millard West adds a new option to the career academies
Millard Public Schools offers numerous career academies that give students the opportunity to learn more about career fields that they are interested in and prepare them for college. This year, Millard added a new academy option: the Science, Technology, Engineering and Mathematics (STEM) Academy. 
The STEM Academy gives students the opportunity to advance their knowledge in a wide range of different fields. Students will take courses on design, engineering, math and science. These classes will help them to prepare for STEM-based careers and postsecondary education. 
"I chose to join the STEM Academy because I want to go into a STEM-related field after high school," junior Grace Tsogbevi said. "The academy will give a foundation and cover some of the basics for the major I wish to go into."
Development for the STEM Academy began during the 2016-2017 school year when Millard attended the Nebraska Department of Education (NDE) reVision process, during which MPS found a need to expand its career education programs. Then in the 2018-2019 school year, Millard received the NDE reVision grant in order to support the development of the STEM Academy proposal. 
"When an academy is proposed there is a long process involved from the conception to actual implementation," assistant principal Mark Hawkins said. "There are many people working together from the district and school level that create a vision and plan for the academy. The district had been interested in adding the STEM Academy for a while and it is one that I know went through all of the proper levels in terms of the implementation process."
The STEM Academy curriculum is heavily project-based giving students the opportunity for more hands-on learning.
"Students will have a greater depth of experiences from a normal curriculum path; think of it as an immersion into the aspects of STEM," STEM Academy director Mitchell Mentzer said. "This academy is exciting due to the opportunity to remove the walls of traditional learning and offer students an opportunity to learn elements of STEM concepts integrated into projects, lessons and internships."
The STEM Academy will give students many opportunities to advance themselves into a STEM-related career. There are multiple dual credit courses that will give students college credits that can be transferred to several different majors as well as meet many different general education requirements. 
Students will also partake in work-based learning. An internship supervised by an academy teacher will give students practical skills that they can use to enter the workforce. 
Academy students will also take a STEM capstone course as a part of their second year in the academy. They will have the choice between two pathways: engineering or communications and information technology. During the Capstone course, students will work with their peers and professionals in the community to define a problem, research it and then come up with possible solutions. They will then be required to complete a cumulative project to demonstrate what they have learned throughout their time in the program. 
"One of the main goals of the STEM Academy is for the students to become creative and critical thinkers," Hawkins said. "During the Capstone course and internships, the students will develop critical skills as well as create partnerships in the community in the areas they want to focus on."
This addition to the Millard Career academy will now give students interested in a STEM-related field the opportunity to advance their education while still in high school.
About the Contributor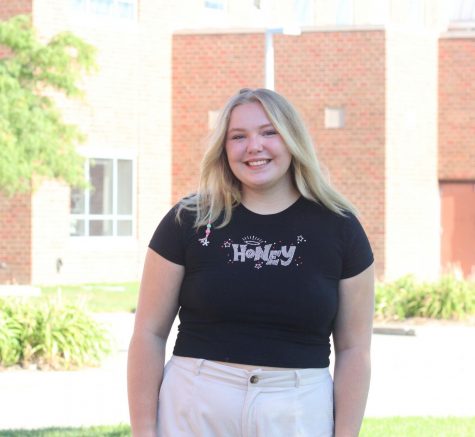 Annabelle Harshbarger, Online Editor
Annabelle is a senior and is returning for her third year on the CATalyst staff. She enjoys writing opinion and news stories as well as filming and editing...