The gentrification of thrift stores
Why staying mindful while second hand shopping matters
With consumers becoming increasingly aware of the negative effects of fast fashion, such as clothing waste and the slow breakdown of fabrics, many have turned towards thrift shopping as an eco-friendly alternative to their typical mall trip. Searching through the racks of clothes in an attempt to find the most unique pieces for the lowest prices has become sort of a trend amongst teenagers and young adults. While this re-buying of old clothes is a positive change for the environment, the new thrift shopping trend has led to the gentrification of thrift stores throughout the United States.
Gentrification is a term typically applied to housing, in which a poor area is changed by wealthier people moving in and making improvements to it while also dislocating former occupants. The emergence of resellers of thrifted items has led to this term being applied to the thrifting world. Wealthier people are now starting to buy things from stores such as Goodwill for low prices and sell them online for more in order to gain a profit. These resellers are seen as selling unique and trendy items whereas thrifting used to be known as shameful when it was associated with only lower income families doing it.
Wealthier people may see thrifting as a bargain hunt whereas people earning a lower income utilize local thrift stores for basic necessities. According to a 2010 study conducted by Pennsylvania State University, lower-income families shop at second hand stores more frequently for clothing, furniture and household items whereas higher-income families shop more for commodities. What one may see as a cute vintage blazer, another may see as proper professional attire needed for an interview. Although thrift shopping for clothes provides a cheap, eco-friendly clothing source for people of all backgrounds, this widening in the demographics of shoppers starts to become an issue with reselling.
Apps such as Depop or ThredUp allow for an individual to easily buy and sell clothes — acting as an online thrift store. Many users of these apps purchase items from thrift stores for a low price, and then resell them on the app for double or more of what they paid for it.  Social media has led to a popularization of such thrifting apps, and according to a 2019 ThredUp resale report, more than one in three Gen Zers will buy secondhand and 51% of all consumers plan to spend more money on second hand clothes in the next five years. As resellers enter the thrift stores and buy out the nicer commodities that the stores have to offer, prices at these stores may increase and families who depend on thrifting for basic necessities might not be able to keep up with these prices.
It is highly unlikely that thrift shopping will become less popular in the future. Concerns about shopping ethically will continue as long as fear about climate change continues and fashion programs such as the one at the School of Art now incorporate second hand shopping into their curriculum. The way to avoid the gentrification of thrift stores is by being mindful of shopping habits and by thrifting from places made for wealthier income individuals looking to shop ethically.
Goodwill itself has developed an online website called Shopgoodwill.com which acts as an auction house for higher value items found in the warehouses. Items sold through this site allow for Goodwill to obtain a higher profit from their items as stated by Forbes, which allows for Goodwill to keep their in-store prices lower for local customers. Individuals can also make sure they are thrifting in higher income areas or go to thrift stores made for middle class people looking to shop ethically. In the Omaha area, Scout Dry Goods and Flying Worm Vintage are thrift stores aimed at a wealthier market. Prices at these stores might be higher, but by shopping at them, one does not need to worry about taking clothing away from the less fortunate.
Second hand shopping is only becoming more and more popular as time goes on. While this change helps customers to break away from fast fashion and feel guilt-free in regards to their environmental concerns, it is necessary for people to remain mindful about the products they are buying and how it affects those who rely on thrift stores.
About the Writer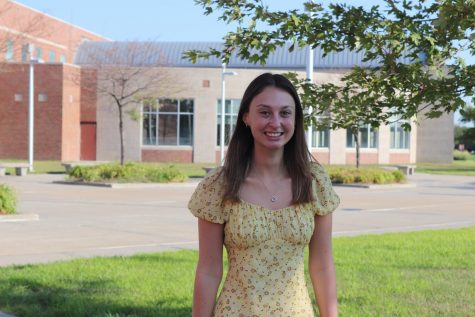 Anna Blumenthal, Entertainment Editor
Anna is a senior at Millard West and is returning for her second year on the Catalyst staff. She loves having an outlet to express her views on the world...