Nebraska needs a clock
High schools need to speed up gameplay in basketball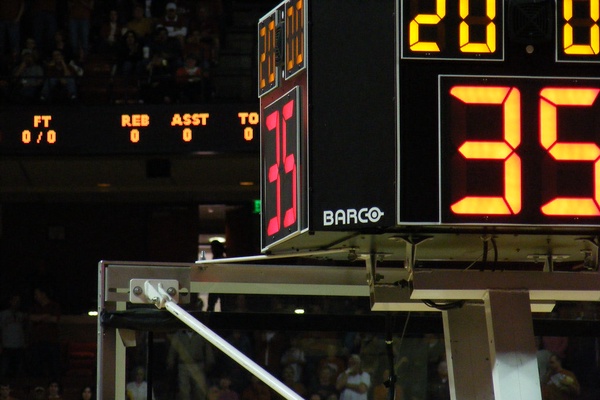 As of right now, the National Federation of State High School Associations does not mandate the use of a shot clock. Instead, they leave this choice up to each individual state association. Nebraska is currently taking advantage of this and does not use a 35 second shot clock.
As of right now, there are 10 states participating in the use of shot clocks in their high school basketball games. Those states are California, Maryland, Massachusetts, New York, North Dakota, Rhode Island, South Dakota, Washington and recently Georgia. This means that each game played in these states is faster paced, and most of the time, more entertaining for the crowd, than those who opt to not use a shot clock. 
In a study done by Alabama Local News, they surveyed 131 boys high school coaches in different states, and 73 percent approved a shot clock. A survey was also conducted for girls high school coaches, and 46 of 76 coaches responded the same way.
Along with this, of the coaches who opted against the shot clock in the Alabama Local News survey, many cited cost as their reason. They say initial costs would be over 2,000 dollars per school, plus the installment costs along with paying someone to run the clock. These costs could be easily taken care of with parent funding or a high school fundraiser. Also, several parents or teachers could take turns running the clock, which would eliminate the cost to have a professional at each game. 
Technically, Nebraska high school teams can hold the ball for the whole game and not get a penalty. This creates a slower, less action filled game. For example, if one team is up in the fourth quarter, all they have to do is hold the ball and wait to get fouled. Soon enough, they will enter the bonus and be able to shoot free throws without ever giving the other team a chance. A shot clock for Nebraska would eliminate this type of gameplay and force players to be quicker throughout the whole game.
Overall, Nebraska needs a shot clock to create a more interesting basketball game, and better prepare players for future opportunities. As the problem becomes more popular, and a majority of schools start to get on board, the Nebraska School Activities Association should give in to the demands of players and establish a shot clock in high school basketball.