Doughmaha disappoints
New dessert restaurant can't deliver
Like many people, some of my favorite memories as a kid are of baking cookies with my family and sneaking a little bit of the delicious dough. I always thought that the dough was better than the cookies themselves. Doughmaha, which opened October 2 in Westroads Mall, obviously thought so too, as they created an entire restaurant based on edible cookie dough. Along with 10 flavors of cookie dough, Doughmaha's menu also features 16 flavors of ice cream and a variety of other signature treats. 
In addition to the dishes I tried, Doughmaha also has three more signature dishes. They also serve cotton candy, floats and pints of cookie dough. The menu also includes entrees, like hotdogs, corndogs and even gyros.
One restaurant feature that is especially helpful during the coronavirus pandemic is online ordering with curbside pick-up. Doughmaha nailed it. Immediately after submitting an online order, I received a call from a real employee, confirming my order and providing me with instructions on how to pick it up. 
My large order was ready within 15 minutes and kept in the freezer until I arrived. Once I arrived at the curbside pick-up area (between Von Maur and JC Penny) I simply called them to let them know I was ready for my food. A couple minutes later, an employee came out to my car and gave me my order. Since I didn't want to eat inside, but I also didn't want to drive all the way back home before eating, I parked at the top of the Westroads parking garage to enjoy my dessert with a beautiful view of the sun setting over the mall (which would have been a lot nicer in the warm summer weather).
The first item I tried was Doughmaha's signature treat—the Cotton Candy Burrito. This gargantuan dessert consisted of two scoops of my choice of ice cream (strawberry and black cherry) covered in marshmallows and fruity pebbles, and then wrapped in a layer of cotton candy. I know—it seems like a lot—and it was. The first bite was a stunning combination of fruity and sugary flavors, that I somewhat enjoyed. However, every bite after was just too much. All of the flavors and sugars were overwhelming, making it impossible to finish the whole burrito.
The $10.00 price tag of the Cotton Candy Burrito was a steal. The portion size was enormous, easily enough to make two, maybe even three, servings out of it. But, based on the overwhelming taste of the burrito I'd pass next time.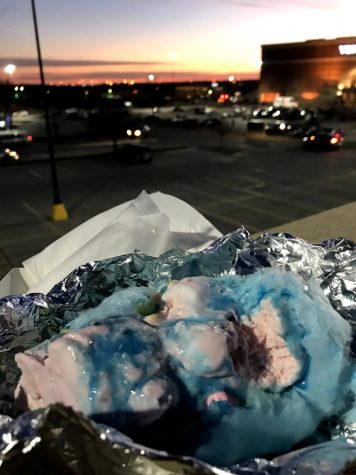 I had high hopes for the Dough/Ice Cream Combo, which I customized with Moose Tracks ice cream, Reese's cookie dough and crushed Oreo cookies on top. However, the combo fell way short of my expectations. First off, the Moose Tracks ice cream had hardly any "tracks" in it; it was essentially just vanilla ice cream with one or two chunks of chocolate. I was very excited to try the Reese's cookie dough, but alas, that was a disappointment too. The dough—nearly impossible to eat with the plastic spoon I was given—was dry and bland. It didn't taste like peanut butter or chocolate. To make things even worse, the entire dish had a strange, out of place minty taste to it, almost like I was eating toothpaste. 
The price of $7.00 seemed a bit too expensive for the small portion, as I could get a similarly sized dessert at Dairy Queen or Baskin Robbins for under $4. The price wouldn't have been completely unreasonable if it was higher quality ice cream; it's a price I'd be willing to pay for that size, but not for that off-putting mint taste.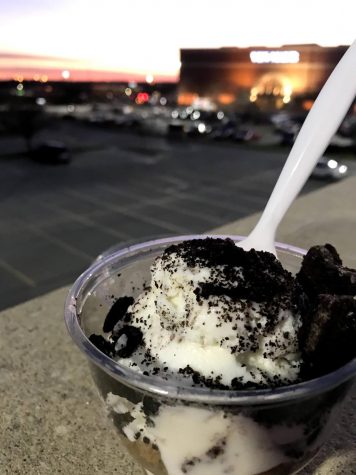 The only dish I didn't have high expectations for, the Shortcake Delight, actually ended up being the only dish I liked and would consider ordering again. The dish consisted of shortcake, strawberry syrup, whipped cream and my choice of ice cream  (I picked Birthday Cake). This was such a delicious combination of flavors; no one flavor stood out too much, and it wasn't overwhelming like the burrito. After just one bite, I was instantly transported to a pre-COVID time, eating my grandma's delicious fruity desserts. The squishy, gooey texture of the whole chunks of strawberry mixed with the soft, fluffy shortcake and the light, soft whipped cream created a delightful result. All of the ingredients mixed together easily, so no flavor dominated any bite too much.
Although the treat was scrumptious, I don't think the small portion was worth the $7.99 price tag. I would consider ordering this again, but not frequently.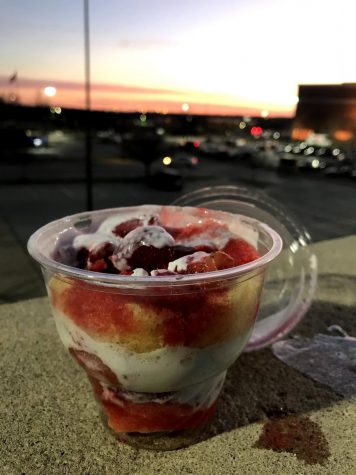 Overall, my trip to Doughmaha was disappointing. Although everything except the eats (the service and location) was great, the food is what makes or breaks a restaurant. And, in the case of Doughmaha, it broke it. ⅖