2020 Election Recap
Your guide to the Presidential, Congressional and State races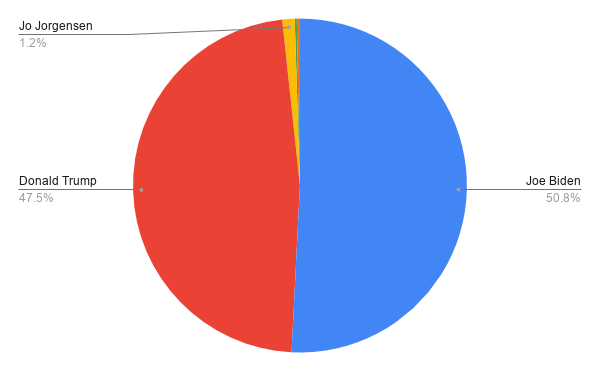 Presidential
The world has watched and waited as the 2020 presidential election came to a close. On November 7, 2020, it was projected that the American people elected Joe Biden as the leader of the free world. He won 290 electoral college votes to 217electoral college votes (but key states of Georgia and Pennsylvania are expecting a recount), with Nebraska giving four of its electoral votes to incumbent President Donald Trump and District 2 giving its one electoral vote to former Vice President Joe Biden.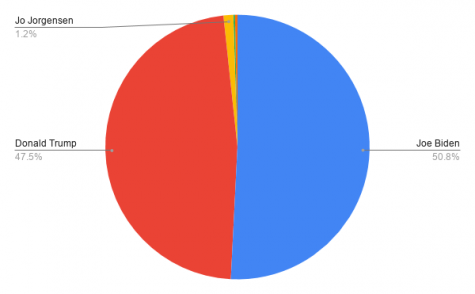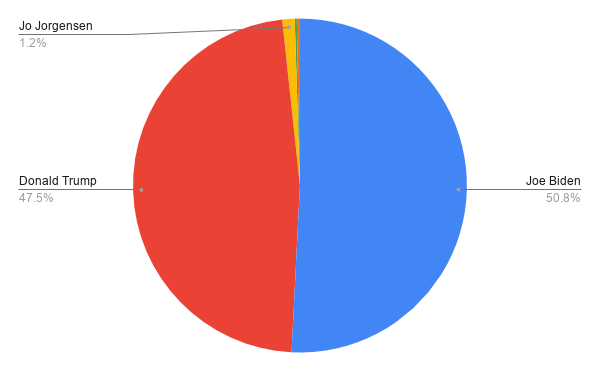 As the nation waited for key battleground states like Wisconsin, Michigan, Arizona, Nevada, Pennsylvania, Georgia, and North Carolina, having the votes in after election day, Alaska surprised many people for not being called until later as it is a very Republican state. The Trump Campaign has filed lawsuits against many states, like Pennsylvania and Georgia, claiming voter fraud because of the heavy use of mail-in ballots. Although there is no evidence of voter fraud, he has not conceded the race because of that reason. 
Congressional 
Meanwhile, Omaha was watching a key race in the House of Representatives, incumbent Republican Don Bacon, and Democratic challenger, Kara Eastman. It was a rough start for Eastman, as she started off down around 30 points. She was making a comeback near the end of the night, but in the end, Bacon won by getting 51% of the votes and Eastman won 46.1% of the votes. Compared to when they ran in 2018, Bacon received 51% of votes but Eastman received 49%, and that was why many people thought that it would be a close race. A reason that Eastman lost by a lot more than she did last time, was not something that she did. Bacon received a key endorsement from former democratic congressman Brad Ashford. This then gave undecided voters a reason to not vote for Eastman, and third party candidate Tyler Schaeffer received 3% of the vote.
For the Senate race, it was much easier for incumbent Republican Ben Sasse. He defeated Democratic challenger Chris Janicek soundly, 67.7 to 26 percent of the votes. It was expected to be an easy win, as Janicek's run was overshadowed by allegations that he made sexual comments and sent sexual text messages to a campaign staff member. The Democratic Party in the state of Nebraska called for him to step down, as they had someone in place to challenge Sasse, but he would not step down. 
Statewide Races
There were many close races for the State Legislature, but the majority of races weren't close, but in District 3, incumbent Carol Blood narrowly won reelection over challenger Rick Holdcroft 50.34% to 49.66%. District 31 was also a close race, and one that was watched by most in the Millard West area as former social studies teacher Tim Royers ran against Rich Pahls for the seat. The race started off rough for Royers as Pahls took a big lead early, but Royers gained momentum overnight.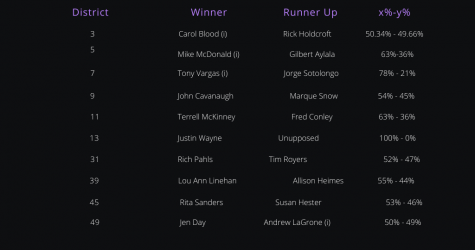 Although not all the votes were counted overnight, near mid-day the next day, Pahls defeated Royers by just over 1,000 votes, 52% to 47%. There then was a surprise of the night. In district 49, incumbent Andrew LaGrone faced challenger Jen Day, and it couldn't be much closer than it was. Going into the night, it was tied, and when the dust settled, challenger Jen Day pulled off the upset by 200 votes and won 50% to 49%.
There were also a couple of bills that the state proposed, and it was up to the general public to decide if they approved it. In a move that shocked some, all six proposals were passed, some closer than others. One thing on the ballot that shocked many voters to see at all, was the amendment on slavery. It was legal in the state of Nebraska to be sentenced to slavery, and in fact, it was in the state's constitution. In a very simplified version, you could be sentenced to slavery as a form of punishment. Many people were confused about the wording on the ballot, as it passed 68-31. The second amendment was to extend the tax increment financing repayment period. That had a lot of support as well, as it passed 61-38. The next four were initiatives, not amendments. Nebraska Initiative 428 was set to make it harder for the PayDay Loan industry to make money from Nebraskans. A PayDay loan is a loan that you take out, and you then would take money out of your paycheck. (It can get very complicated so here is a link that explains it) That passed 82-17. Nebraska Initiative 429 was the next on the ballot, and this one was to legalize racetrack sports gaming, and Nebraska Initiative 430 was to expand on that, making it legal right away. Racetrack gambling is horse track gambling, making it legal to bet on horse races. Finally, Nebraska Initiative 431 was to tax all of the new gambling by 20%, and that would go to the state to distribute to new places.
And although we are still not entirely sure what will happen in the next four years, we can predict that Biden will try to undo do many Trump-era policies, like rejoining the Paris Climate Accord and the WHO (World Health Organization) , but also ending the Muslim country ban and allowing transgender people to join the military. With both the House and Senate expected to be split, Biden has a lot of challenges, but he campaigned on bipartisanship, which is what he will need with the nation more divided than ever.