Fight Night Las Vegas
Teixeira defeats Santos in the main card event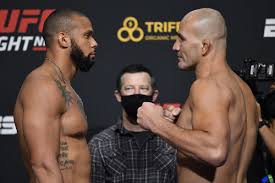 On Saturday, November 7, UFC Fight Night was held in Las Vegas Nevada, for UFC Vegas 13. Ten fights took place, including the main card event with Glover Teixeira vs. Thiago Santos. Other important fights that took place throughout the night were Andrei Arlovski vs. Tanner Boser and Giga Chikadze vs. Jamey Simmons.
The main card consisted of two Brazilian veterans, Teixeira and Santos. Going into the fight, Teixeira had a 31-7-0 record and a win streak of four, whereas Santos had a 21-7-0 record and was coming off a loss to Jon Jones. The fight started off slow with a couple punches from each fighter. About midway through the first round, Santos got several hits in and even got a knockdown. Directly after this, Santos lost control of Teixeira resulting in him losing the upper hand. This led to Santos getting pinned down and hit several times with an elbow to the face. These hits ended the first round and gave Santos time to breathe.
Teixeira immediately took control of the second round when Santos missed a kick and Teixeira pinned him against the cage. Shortly after, Teixeira took the fight to the ground where he proceeded to lay shots on Santos for the rest of the round. 
At the start of the third round, Teixeira got Santos into a rear naked choke position where he forced Santos to tap out. Teixeira was victorious, walking away from the fight and is now one step closer to being the light heavyweight champion.
Another important fight that took place at UFC Vegas 13 was Andrei Arlovski vs. Tanner Boser. The heavyweight fight favored Arlovski to win, with his 29-19-0 record and his former belt. Going against him in this fight was Boser at 19-6-1. 
The fight started off fast with Boser getting several kicks to land along with landing an uppercut to Arlovski's face. He continued to lay even more hits throughout the remainder of the time in the first round, leaving Arlovski with a lot of work to do.
Upon starting the second round, Arlovski threw several hard punches at Boser which resulted in Boser backing down a bit. This created room for Arlovski to step in and land several left hooks along with a few jabs that left Boser shook. Shortly after this, the round ended giving Boser time to recuperate. Even though he had time to rest he still looked faded in the final round and let Arlovski get just enough punches to steal the match from him in a unanimous decision.
The main featherweight fight of the night was Giga Chikadze vs. Jamey Simmons. Compared to the other fighters, each of them has fought significantly fewer fights leading up to this matchup. Chikadze was 11-2-0, and Simmons was 7-2-0 before the fight took place.
The first round started off with Simmons attempting two roundhouse kicks and Chikadze landing a few jabs. Midway through the round, Simmons picked up Chikadze and pinned him against the cage. Although it took a minute for Chikadze to get free, he got out of the hold with speed. With a minute left in the round, Chikadze landed a massive kick to Simmons' head, knocking him down. Soon after, the match ended with Chikadze firing punches and the referee calling the match.
The UFC is holding another fight night Saturday, November 14. Islam Makhachev is taking on Rafael Dos Anjos in the main card event. This event will be held in the UFC APEX in Las Vegas and will determine who is one step closer to being the lightweight champion.