Baking with heart
Second location of The Omaha Bakery opens in Elkhorn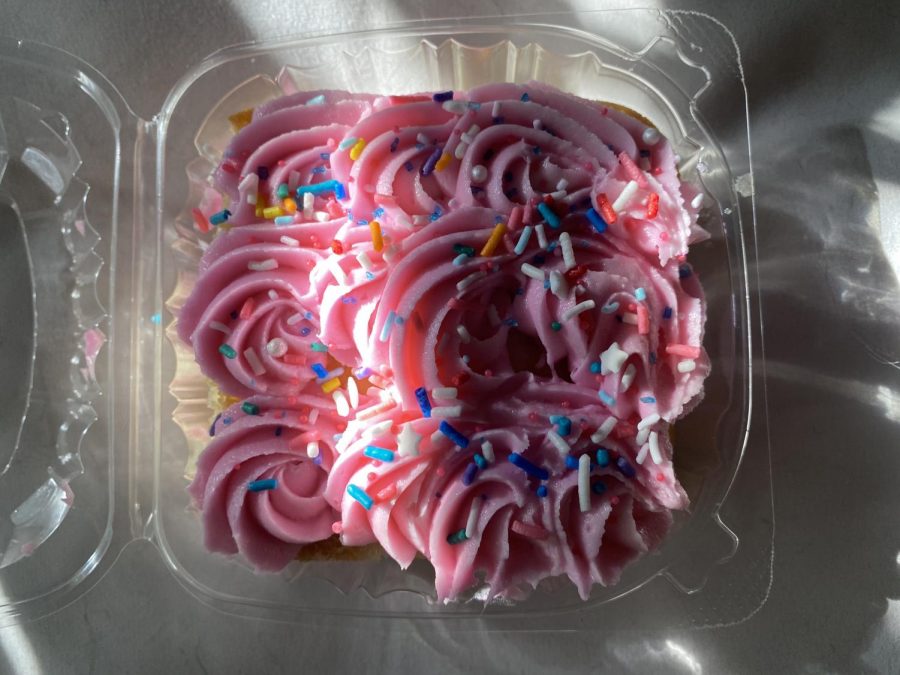 Michelle Kaiser, the owner of The Omaha Bakery, opened her first restaurant in 2016 located in Omaha off 72nd and Dodge. Right away, she was able to capture mid-westerns' hearts with her fantastic cakes, brownies and cookies. In 2018, she added a keto-version of baked goods: low carb, gluten-free and little to no sugar. 
The Omaha Bakery is located in Elkhorn at 210th Street and Cumberland Drive, opened in October. It is located across the street from The Mark bowling alley. The bakery's regular customers, who were located far west, were thrilled and eagerly anticipated the opening of a closer location.
I went to The Omaha Bakery after hearing the positive reviews about the delicious food, the close-knit group of employees and the excellent service. 
Inside the bakery, the smells of cookies baking and cinnamon rolls rising filled the air and wafted towards my nose. It smelled almost like walking inside your very own kitchen after a long day and there being a plate of homemade cookies to eat. The excitement of eating those cookies came to me when I walked through those doors. 
Cases lined the wall, filled with baked goods that range from full-size cakes to box cakes to cookies and brownies. Two of the cases contain keto desserts, and one of the cases includes regular desserts with sugar and white flour. 
Looking into some cases, I saw extraordinary looking cakes, some standing tall and some short and fat. One of the cakes that caught my eye was covered in white frosting and sprinkles from the bottom to the top.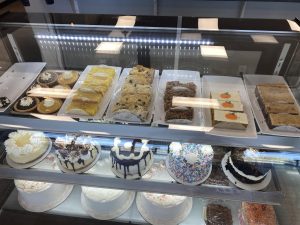 It was a difficult decision to make on what I wanted to buy and eat. I wanted to get a keto dessert and a regular dessert so I could compare the two. Eventually, I had decided on a pink box cake and a keto chocolate peanut butter bar after going back and forth between both cases. In total, it cost me $10.
The pink box cake was in a small plastic box, about four inches in width and length. On the top was sugary pink frosting covered in round and star sprinkles. The cake was vanilla and was cut into two layers. In the middle of the two layers was a thick pink buttercream to give the cake extra flavor. The frosting on top tasted like Eileen's frosting; like strawberries and sugar—overeating it would've made me sick. It wasn't super-rich like some desserts are, but it was light and puffy. The cake was fluffy and soft, which I love. It was heaven in a box. With each bite of the cake, I fell more and more in love with it. I plan on going back to try the vanilla cake as I am sure it tastes just as wonderful. I do not like eating heavy cakes as it drags me down and makes me feel heavy. This cake was like a fairy cake or a child's birthday cake; it was simple yet delicious.
The keto bar, a chocolate and peanut butter layered bar was gluten-free and had no added sugars. This dessert was very bland. It was enjoyable for having no flour or sugar, but I wouldn't want two or three of them like I do when I eat brownies or cookies. The bar was hard, with chocolate on the top, a peanut butter mixture in the middle and a crumbly crust on the bottom. The dessert was a little dry, but it tasted like fresh ground peanuts and dark chocolate. The crust crumbled with every bite but had no recognizable taste. I liked the taste of the chocolate and peanut butter together. It gave a strong flavor that made my taste buds tingle with delight. 
Overall, The Omaha Bakery is a beautiful bakeshop to go to for desserts.
I highly recommend going there to get birthday cakes made as they looked beautiful and creative. I plan on going back to get the sprinkle cake when my birthday comes around. The desserts are appetizing and simple. They are beautifully made and created with love and care by all the employees. I recommend this place to anyone who loves desserts and wants to eat baked goods or try a low sugar keto dessert.
About the Contributor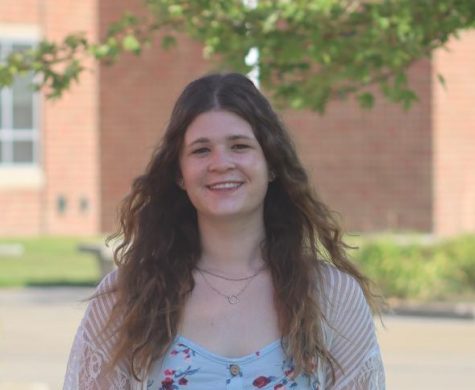 Annalise Smalley, Staff Reporter
Annalise is a senior at Millard West and is returning for her third year on the CATalyst. She loves writing food reviews for new restaurants and doing...