A more rigorous AP program
Two new AP courses have been introduced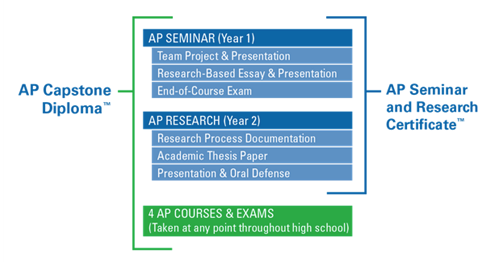 Students at Millard West High School have the ability to participate in many programs, such as the Education Academy. These open up students to new experiences in various fields of work. Starting in Fall 2021, a new opportunity will be made available for students. This program is called AP Capstone.
 AP Capstone is a College Board program with a goal is to equip students with skills that are valued by colleges nationwide. Some of those skills are independent research, collaborative research and communication, all being crucial for college. The program is composed of two courses, AP Seminar and AP Research. They go in depth about a specific subject, like Biology or U.S. History. The requirements for this program are quite strenuous.
"The Capstone diploma requires students to take six AP courses and a 3 or higher on the corresponding AP tests," principal Dr. Greg Tiemann said. "The part that's more important than taking these courses for a higher ACT test score is the preparation for how colleges teach and expect students to research, critically analyze information, evaluate multiple perspectives and support an investigation of your own. The AP seminar and AP research courses are going to be unlike any other course offered at Millard West."
The school had been looking to implement this program into the school for some time, ever since its inception in 2014. It will allow students to demonstrate what they've learned. It's important for students to flex their knowledge on state tests like the ACT in order to stand out on college admissions. Junior Carson Wilson understands that this is crucial for further education after high school.
"I think some students would be better off taking AP Capstone so they can score higher on state tests, and to just to show their knowledge on what they know," Wilson said. "It shows the colleges that you can put effort into your work."
According to Tiemann, AP Capstone will be available for all students to enroll in by taking AP courses and tests their freshmen and sophomore year, then take the AP Seminar their junior year and AP Research their senior. Although this option is available to all students,  it's not guaranteed that everyone will take advantage of it. Junior Ethan Kittle already plays the saxophone for the Millard West band, so he might already have a fair amount of work on his back.
"I would possibly enroll in it because it would help me develop college skills that would be beneficial down the line," Kittle said. "If other students want to develop useful skills then they should take it."
 The knowledge and work ethic acquired from AP Capstone could open up students to greater opportunities in their futures, awards potentially being given to those who complete the program. The AP Capstone Diploma is granted to students who earn a score of 3 or higher in AP Seminar and AP Research and on four additional AP Exams of their choosing. Additionally, The AP Seminar and Research Certificate is granted to students who earn scores of 3 or higher in both AP Seminar and AP Research.
There are many opportunities here at Millard West that appeal to a broad range of interests, and AP Capstone is another addition to that roster. Tiemann and students like Wilson and Kittle see potential for the AP Research and AP Seminar courses, which shows support for the program. It's not available right now, but once the process starts, the effect of the program will be monitored.