Renovating reading
Library undergoes remodel in hopes of drawing in new readers
This past spring, the Millard West High School library began the process of upgrading. The project is part of a group of renovations happening among all Millard high school libraries. The goal of the project is to provide friendlier work spaces for both staff and students.
This is the first time the library has ever seen a large-scale remodel, minus one carpet change and the occasional replacement of old furniture. The process began in early May while students were still participating in remote Zoom classes.
Some things unique to the library upgrade include gray shaggy carpet, oak desks for the librarians and paras, two additional conference rooms, a classroom space and several new chairs and tables. With so many new items and a completely different layout, there are several features that impressed librarian Mindy Jorgensen.
"I really love the glass conference rooms that were added," Jorgensen said. "They're probably the biggest change to the library. I also think those are what are getting the most use in our current COVID-19 situation since students and staff can take their masks off when they're alone working on assignments."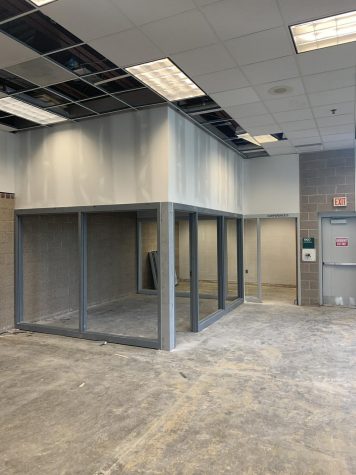 While the conference rooms will allow for more student and staff use, para Melissa Collins is more excited about another item added to the library. This new feature will hopefully increase the number of books being read and will showcase the new arrival of some novels.
"I think the thing I'm most excited about having are the new book displays," Collins said. "Those were super high on our wish list, but we weren't expecting to get them. I'm hoping they'll attract more students in to check out books."
The process has been physically demanding from all those involved. For example, 514 boxes of books were packed up from 580 different shelves and were temporarily relocated. Months later, the books had to be unpacked and sorted on the new shelving units, situated on either side of the library. Since the school is temporarily a few shelves short, there are still boxes of books that have yet to be organized and placed.
District Project Manager Stephen Mainelli hopes that the finishing touches will be added by early September. A few delays among the Millard high schools have put the renovation slightly behind track.
"COVID-19 caused some of the material deliveries to be delayed which resulted in the project running past the original completion date," Mainelli said. "We also ran into some unexpected conditions once construction began."
Some of the issues briefly mentioned include items of furniture that were delivered broken and had to be reordered. Other pieces of furniture were damaged in the moving process.
Late arrival of ordered materials is not the only effect COVID-19 has had on the library. In terms of checking out and returning books, a new protocol has been established.
Students must now request books online, meaning walk-ins and open book browsing are not allowed until further notice. After placing a request for a book, it will then be delivered to a student's classroom, typically within the same school day. Paras Rainbow Dark, Collins and librarian Jorgensen are as flexible as possible, delivering books with a "doordash" like service to any of a student's daily classes. As for remote learners, they only have access to online e-books and audio books unless they schedule a time to come pick up their materials from the school.
After a student returns a book, it's immediately wiped down to eliminate all germs. It then has to sit for five days before the book is able to be checked out to another student.
Although COVID-19 has had a large effect on how the project has gone, Jorgensen, Collins and Mainelli remain optimistic about the library's use. The additional classroom space and independent study rooms will be helpful in the future post-pandemic when the situation allows for more practical use.
About the Writer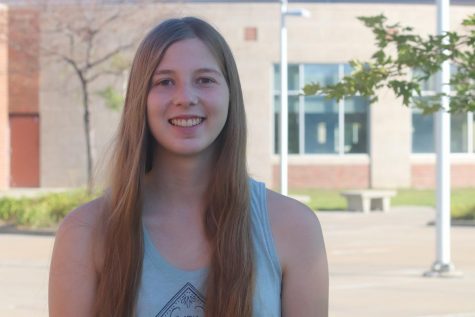 Olivia Edwards, Staff Reporter
Olivia is a senior at Millard West and is beginning her second year on the CATalyst paper. She enjoys writing stories for the paper and is passionate about...