Finding out their fate
Plans for graduation are finally revealed to seniors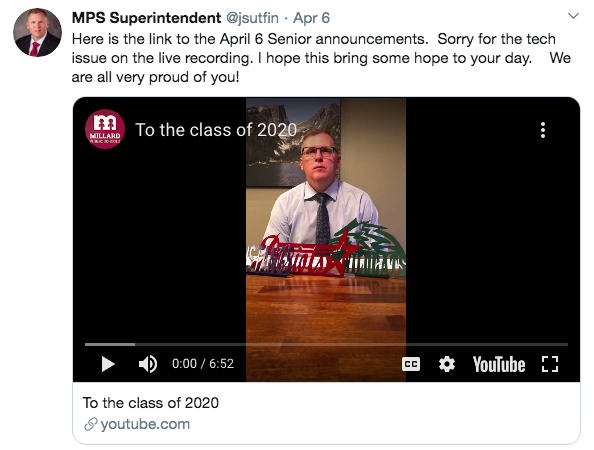 On April 6, Superintendent Dr. Jim Sutfin released an official statement regarding the end of the year plans for not only seniors, but Millard Public Schools as a whole. He took this announcement to Twitter with intentions of going live, but technical difficulties led to Sutfin creating a video and releasing it soon after. An email with the details was also sent out to families. 
Sutfin announced that MPS would hold virtual graduation on Saturday, May 23, but rented out Baxter Arena July 30 and 31 in hopes that students will be able to walk across a stage for graduation. In addition, the school year would be cut short. Seniors will be done with school on May 12, while everyone else will be done on May 14. 
"We want to more than anything honor the seniors that are graduating right now," Sutfin said. "We know this is 13 years of a culmination of work. We wanted to do something in May because let's face it, you're done in May; it's time to celebrate. We also recognize that there are some rights of passages that occur in a lifetime, one of those is to graduate. We want to make sure that we create as many opportunities and as many options as possible while we walk ourselves through this."
Seeing as the Superintendents of each district talk to each other, many other Douglas County schools such as Omaha Public Schools are also doing virtual graduation, but planning for in-person ceremonies as well. Sutfin met with three different boards to discuss future plans. These groups included the MPS Board of Education, the Executive Committee which is made of the associate and assistant superintendents and executive directors and high school principals. 
"About the time the governor made the announcement about no more activities for the remainder of the year, we knew that would probably include graduation," Principal Dr. Greg Tiemann said. "As we got clarification, I had called around to other schools and looked at what those principals were doing for their schools and thought that would probably be the direction we have to go. We made a committee and discussed what we had for options."
Although the date of in-person graduation is set, there are minor details that still need to be worked out. As of now, Sutfin and the Millard principals are unsure how it could go as far as speakers and other traditional aspects of graduation ceremonies. After talking with UNO, the board received information about MarchingOrder.com, a new brand that created a way to have a virtual ceremony. Millard is using Water's Edge Church's facility to host virtual graduation.
"I think it was a smart move to have both options available," senior Sanjulaa Chanolian said. "I for one would have been super upset if we could have done an actual graduation in the summer and we didn't plan for it, but would have been more upset if we didn't have a graduation at all.
Despite these circumstances, both Tiemann and Sutfin hope that everyone, seniors especially, doesn't take anything for granted and that there will be some sort of positive outcome after all of this.
"We can't go back to the way it was before," Sutfin said. "Everyone in the community has had a life-changing experience, and it would be a shame to go back to the way it was because we have new knowledge. Can there be a deeper sense of gratitude about who we are and what we are as a community? I don't know if we'll know for a long time what that impact is, but I have to believe that the class of 2020 will be impacted greatly by this and it will change your life forever for the good because you've had that experience."
Sutfin also mentioned in his statement that social distancing will play a part in these plans. For seniors to have a graduation in late July, it has to be safe. This will also ensure that students will be able to return to school in the fall of 2020.
About the Writer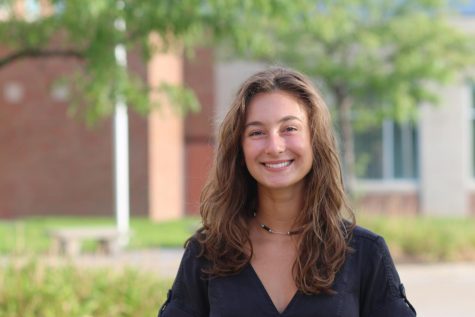 Kaitlyn Willard, Catalyst Editor-in-Chief
Katie is a senior and this his her third year on the CATalyst staff. For the past two years, Katie has served as Features Editor. She enjoys writing and...