Serving on and off the court
Senior wins Scholar Athlete Award in honor of his work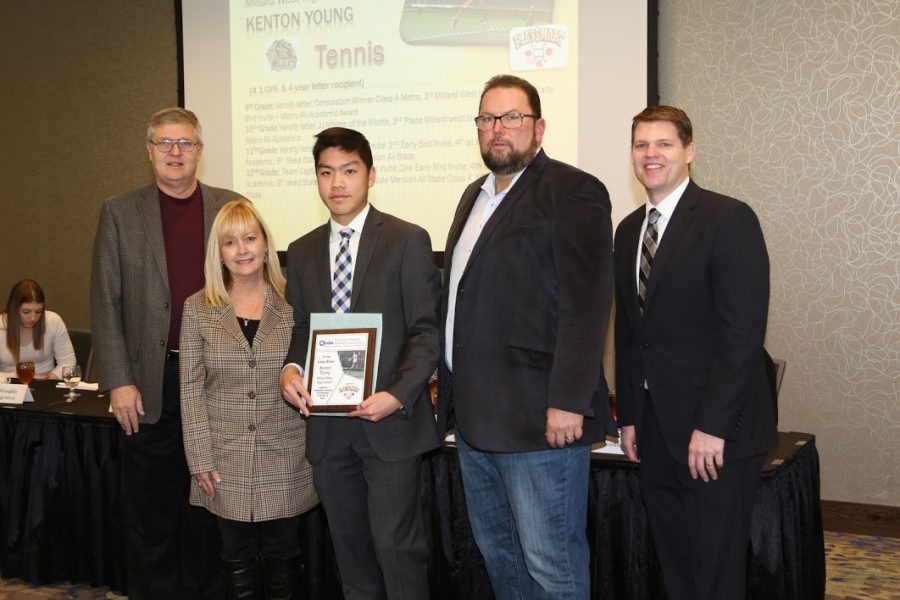 In December, fall Scholar Athlete Awards were announced through the Greater of Omaha Sports Committee to honor hardworking student-athletes, senior Kenton Young being one of the few. Awards are given out to excelling double-threats with high academic records and impressive on-court history.
In order to be nominated, a coach must submit the student's name to be considered for the award. Those selected are then evaluated and taken into consideration. A mixture of the student's scholastic and sporting achievements must show their commitment and dual talents.
"Kenton is the total package," varsity boys tennis coach Thomas Koziol said. "For sure he's an excellent on-court performance, but that's to be expected. Not all athletes can also back it up in the classroom, but Kenton can. He has a very high GPA, is very involved in extracurricular activities and has a high ACT score. He can do it all. He thanked me for nominating him; I had no idea before he told me. They don't tell us anything. We just have to nominate and hope for the best."
Young's sport of choice, tennis, has been running through his veins since he was 10 years old while playing a bit of ping pong and basketball every so often on the side. A weekend lesson and two to three weekday practices plagued his time during the boy's fall tennis season. 
Having to keep up with school work, playing the viola and the National Honors Society proved to be a difficult task while involved so heavily in tennis, especially during the missed days for tournaments. Favoring the competition and heavy workout, Young strives to be better as he progresses although having a lot on his plate.
"I feel like I have grown a lot as an athlete at West because I played and placed better every year at state for #1 singles," Young said. "It means a lot to me because it rewards me as an athlete, but also for my work in school. Tennis season is busy because we skip a lot of full days of school, so I have to learn stuff on my own sometimes."
Although proving his place on the court, Young would not have been able to qualify as a scholar-athlete if not for the addition of his unmatched effort in the classroom. As an Advanced Placement student, Young is adamant in keeping up with his school work and being just as good at a desk as he is with a racket.  
"Kenton is a dedicated student-focused on owning his learning and contributing to a positive classroom environment," English teacher Lloyd Hoshaw said. "AP Lang creates the opportunity for students to challenge their perceptions of the world and seek out projects of interest. Kenton is better prepared to comprehend the importance of his role as a citizen of a global community and his willingness to learn and his desire to improve will flourish in the next level of the learning environment."
With around 2500 students, the competition to be a successful pupil at Millard West is a difficult task to face. Young is not an undeserving finalist when it comes to being the best of the best. He plans on continuing club tennis and friendly competitions between mates to stay with his love for the sport.
About the Writer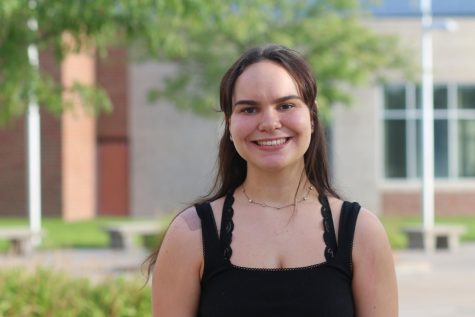 Olivia Oeth, News Director
Olivia Oeth is a senior and new to the journalism team, but is excited to make new friends. She loves her job at Scooter's and hanging out with friends....