College Football Preview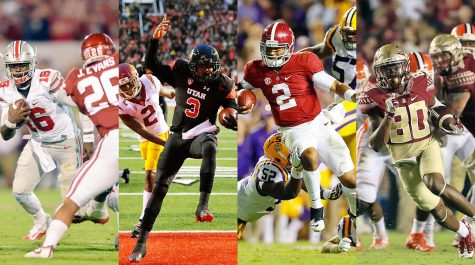 photo courtesy of Sports Illustrated's Andy Staples
The college football season has arrived and sports fans are brimming with excitement. It has been too long since we have had some football to watch on TV and we have big games coming up like Alabama vs Florida State the first week. Now the big part of this season is the College Football Playoff and sport fans are putting their input on the season so here are my predictions.
The teams I feel will be left out is Penn State and USC (University of Southern California).Penn State has a lot of momentum coming into the 2017 season. They just won the Big Ten Championship and made a trip to the Rose Bowl. They will definitely be around number five by the end of the season, but with games against Ohio State, Michigan and Nebraska it will tough to come out the East and be Big Ten Champions and make the playoff
Now USC is also coming in with momentum after winning the Rose Bowl against Penn State last season. They are looking to come out as Pac 12 Champions with All- American quarterback Sam Darnold, but that may not make them in the playoff. The USC schedule just looks too tough to win out and they don't have enough tough game which ultimately doesn't help their resume to get into the playoff. Stanford is a hump to get over because they are successful. I just feel the Pac 12 isn't very strong and that will leave them out of the playoff.
Who makes the cut?
Oklahoma State
This may be a surprise, but Oklahoma State has a very good chance to to jump in. They start out at ten in the AP poll and have a season where they all favorite, they will play for ranking teams this season (#23 Texas, #22 West Virginia, #7 Oklahoma and #20 Kansas State). Their hump would be Oklahoma, but they get them at home and if they get over that they may have the play Oklahoma again in the Big 12 Championship but with a receiver core including All American James Washington they are fast and productive that will get them to the playoff at that number four spot.
Florida State
Florida State has momentum coming into the season being ranked third in the preseason AP Top 25. They won against Michigan last year in the Orange Bowl. They start off this year against Alabama most likely to lose but they still will make the playoff. Deondre Francois is coming in looking like he could be ACC player of the year.
Ohio State
Ohio State ended the season with no momentum at all last season. They made it to the college football playoff and didn't play well. They lost 31-0 to the eventual National Champion Clemson. This year is a new team with a goal to get better. J.T Barrett looks to be a Heisman candidate and lead the Buckeyes back to the Playoff. This year their humps are Penn State and Michigan. Penn State beat them last year and they ended up winning the Big Ten. I feel Ohio State may lose one of this games, but still make the #2 spot in the Playoff.
Alabama
Now this one should be obvious. Alabama is one of the best college football programs in the country. They have gone to every college football playoff and why not be able to do it again. They are preseason #1 and look to steam roll the SEC and make it to the number one spot in the College Football Playoff.
Heisman Trophy
Lamar Jackson QB, Louisville
Lamar Jackson is the reigning Heisman Trophy winner from last season and looks to do it again. He will be stronger and more athletic after a whole off-season of work and studying film. He may be the best in the NCAA because all of his competition was drafted in the NFL. There is always a surprise person every season to make a run at the Heisman but Jackson will he too good.