A True Teammate
Sophomore overcomes challenges in an impactful way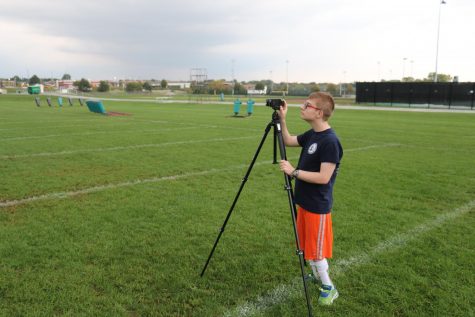 He just wanted to be like everyone else. He wanted to run, jump and play sports like the other boys. As every kid would, he imagined himself scoring the game winning touchdown, being lifted up by his teammates, and becoming the hometown hero. But staring into the dark mirror of reality has its consequences. Some bodies present opportunities to excel while others present obstacles to overcome.
Most 10th graders wake up in the morning with opportunities at the doorstep. Whether it involves a sport or a club, everybody finds their fit. But for Ben Rogers, this was difficult.
Rogers was born with a rare case of Spina Bifida. This occurs when your spine is open, rather than aligned, hindering his ability to walk, due to the disarrangement of nerves in his spinal chord and his legs.
"I've always wanted to play sports since I was little," Ben said. "I just wanted to look for ways in which I could help."
As Open House kicked off for the start of the 2017 school year, Rogers found his opportunity as one of his history teachers, Chad Young, was also a football coach for Millard West.
"He loves football, but unfortunately can't play." his mother Michelle Saxman-Rogers said. "He was just looking for a way to contribute to the team."
Confronted with his circumstances, there was very little he could do from an athletic standpoint, but that's when a new job came seeking a new camera boy.  Rogers and his mother jumped on the opportunity.
During the Millard West football season, the team likes to film their practice each day as a way to look back and reflect on what they need to improve. The only problem was who. Who would take time out of their schedule to come film football practice every single day?
The coaches pondered over who could seize the job of running the camera. Clearly the coaches couldn't do it themselves as they were too busy guiding their players. It's the little things that make the program so great, and it was an opportunity for Rogers to be involved.
"I require Ben to join a club or a sport every year," Michelle said. "He is very sociable so he needs something to be involved in."
As soon Rogers accepted the job, he was immediately put to work the first week of practice. He began filming twice a week, which eventually turned into an everyday task. His job was to monitor a camera double his size, and record every rep the coaches requested. At first, Rogers claimed he became bored of the job, but once he realized how much it meant to the team, it became a passion.
"I'm always excited to see the players and what they draw up each week," Ben said. "I find it very interesting since I've always wanted to play football as a kid."
As the practices went on, coaches and players began to notice Rogers and thank him for all of his hard work standing in the heat, behind the camera. His dedication truly showed how much the program meant to Rogers.
One day during practice, something caught the eye of everyone on the field that was marvellous. It was Rogers, standing. He held the camera with pride as his legs were built like a solid foundation beneath him.
Although Ben is in a wheelchair, it does not restrict him from walking and standing. A moment of awe struck the players.
When Ben was seen standing there, just doing his job, a wave of inspiration reached its way around the team, showing that no matter what life's obstacles may be, there's a place for everyone.
"He just really lifts the mood during practice," senior wide receiver Hunter Schnurle said. "It makes us all realize that the sport we are playing is more than a game."
Ben continues to film practices for the Wildcats as he brings his positive energy to the field each and everyday. As the season progresses, Ben continues to find himself as one of the guys and a part of the team. The players accept him as one of their own as his contribution to the program  is just as important as any other player on the team.
"He's a great guy and we love having him around," senior running back Carson Ashby said. "He fits right in with all of us and is a great guy."
Ben carries around an inspiration that is used everyday on the practice field, and at times in games for players and coaches. It shows that anyone can overcome any obstacles in life and take what life has given them to an advantage.
"I love that he is helping the football team," Michelle said. "It is a great way for him to help in a sport he loves."
The Wildcats continue on in their regular season, bringing Rogers along the way. Rogers provides quality practice footage to the team each day as his job becomes more important as the season goes on. But there's more than just film that he gives to the team. He also gives us one thing that is hard to internally teach, strength.
About the Contributor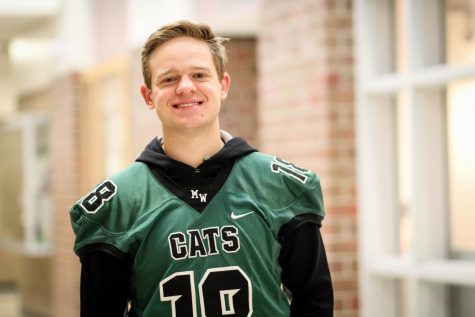 Andrew Pfeifer, Staff Writer
I have been an edition to journalism ever since my junior year. I have been involved in numerous sports writing and broadcasting providing quality information...