Let the games begin
Choir classes spend the last few weeks of the school year in a unique way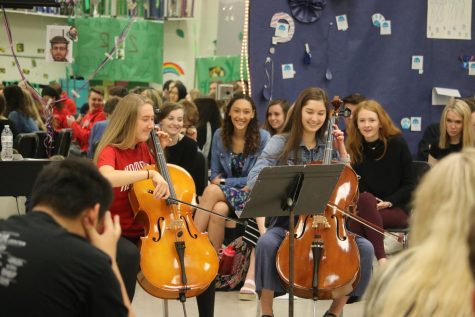 Red, yellow, green and blue decorations covered each corner of the choir room. Teams seated together ready for  Choral Quidditch, an event held the last few weeks of school in the choir classes, was about to begin.
This Harry Potter inspired game consist of choosing teams, different music related events and a winner at the end of the two weeks. Choir director Jordan Newhouse was the one who came up with this idea three years ago.
"In choir when our final assessment if the final concert we've got quite some time to do some things so it ends up being a lot of rehearsing songs for no specific reason which ends up being not fun," Newhouse said. "So I came up with a game and I thought let's do something fun and overtop."
On the first day of Choral Quidditch the teams are picked. Each student comes to the font of the rooms and a slip of paper with one of the four colors is pulled from the 'sorting' hat that decides what team they will be on. They then begin to decide on their teams name, mascot and decorations with leadership from a head boy and girl. Senior Kensely Heskett was the head girl for the blue team in first block.
"I volunteered to be a team leader and then people voted on who they wanted," Heskett said. "My jobs are helping sign everyone up for a different event and over see all the decorations."  
The following day the teams decorate and then a parade of houses is done. The students come up with a team chant or song that they can sing while walking in. This is the kick off the whole events as it showcases each team and their mascot.
In the next days the real competition began. The teams participate in different trivia styles games about music history, theory and other music pop culture. They also did 'finish that lyric'. Each event gives the teams different amounts of points.
"My favorite part this year was the kahoot because the whole thing was so crazy," Heskett said. "We got so into it and everyone was screaming."
Another event that takes place is a talent portions called Beyond the Voice. Students can obviously sing or do other kind of talents. Some played an instrument, danced or even a magic act. Senior Kenna Frank enjoyed watching this part of Choral Quidditch and supporting her team mates.
"The performances are more relaxed and it gives us a chance to just perform without pressure of being scored or trying to be perfect," Frank said. "It's really fun to hear what everyone's brings."
After all the points are tallied a winner is named in each block. Although the game is a competition it is also a time for students to bond during their last weeks school together.
"It brings them together in a way they wouldn't naturally because I am randomly selecting them to be together on a team," Newhouse said. "At first they are a very nervous that I'm going to ask them questions about music that don't know and that's not what I'm going to do. We end up asking questions about pop culture that they don't think has a place in the classroom but it really does. Music is music."
Choral Quidditch is an event that choir students looks forward to each year. It allows them to be bond with classmates, explore all types of music and show off their hidden talents.
About the Contributor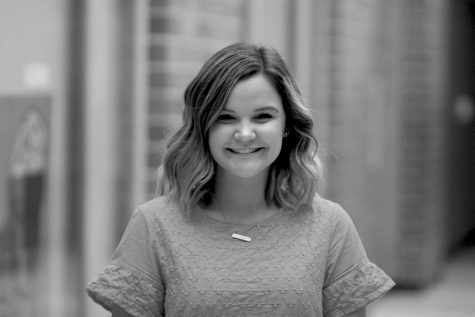 Sydney Looney, Editor-in-Chief
Sydney is a senior and this is her second year being apart of the CATalyst and MWHS Wildcats News staff. Her favorite part of journalism is getting to...